Camp Directors with Over 50 Years Combined Experience
Hi! We are Maggie and Bob Braun and we are the Directors of WeHaKee Camp for Girls. As the directors of WeHaKee Camp for Girls since 2004, we welcome you to this remarkable camp community and thank you for taking the time to explore us 'virtually' on the web.
Together, we bring over 50 years of combined experience working with children and youth, and WeHaKee Camp for Girls has allowed us to use our unique set of skills in a large number of ways.
With two daughters of our own, we know the challenges faced by parents to help their daughters become confident, independent young women. We appreciate the incredible impact that the WeHaKee Camp for Girls experience has on each girl in helping her discover all she can be.
Please don't hesitate to contact us at anytime as we are more than happy to assist you in any way. We love to talk about camp!
E-mail Bob & Maggie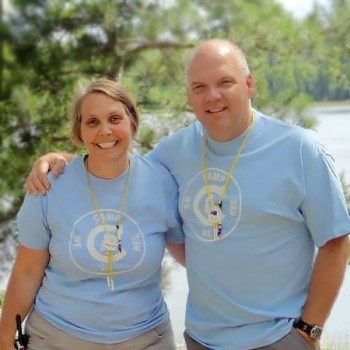 Maggie and Bob Braun, Directors of WeHaKee Camp for Girls
Messages from Our Camp Directors
Maggie and Bob On-The-Road!
We're back on the road telling the story of WeHaKee to interested families as well as seeking great staff so we can bring them all together for a great summer on the shores of Hunter Lake!
FRIDAY, MARCH 24th, Danna Center, Loyola University, New Orleans, LA, 11:30am to 1:30pm
TUESDAY, MARCH 28th, Student Center Lobby, Spring Hill College, Mobile, AL, 11am to 1:30pm
WEDNESDAY, MARCH 29th, 10am to 2pm, Thad Cochran Center, University of Southern Mississippi, 118 College Drive, Hattiesburg, MS
THURSDAY, MARCH 30th, Xavier University of Louisiana, New Orleans, LA, 11am to 1pm
FRIDAY, MARCH 31st, Opelika, AL
If you're nearby, please stop for a visit!
See where we've been this year!  If you missed us, but want more info, click HERE to contact us!
SATURDAY, JANUARY 21st, Chicago Open House, Riverside Scout Cabin, Riverside, IL, 1pm to 3pm
SUNDAY, JANUARY 22nd, Northbrook Open House, Sheraton Northbrook, Northbrook, IL, 12pm to 2pm
SATURDAY, JANUARY 28th, Summer Opportunities Fair, Mary Institute and St. Louis Country Day School, St. Louis, MO, 10am to 3pm
FRIDAY, FEBRUARY 3rd, Valparaiso University Career & Internship Fair, Harre Union Ballroom, Valparaiso University, Valparaiso, IN, 10am to 2pm
SATURDAY, FEBRUARY 4th, Nashville Parent's Summer Camp Adventure Fair, Cool Springs Galleria, Nashville, TN, 10am to 3pm
TUESDAY, FEBRUARY 7th, Summer Recreation Open House, York Community High School, Elmhurst, IL, 6pm to 8pm
WEDNESDAY, FEBRUARY 8th, University of Wisconsin-River Falls Opportunity Fair, UWRF Riverview Ballroom, River Falls, WI, 10am to 1pm
WEDNESDAY, FEBRUARY 8th, Minnesota State Summer Job Fair, CSU Ballroom, Minnesota State University, Mankato, MN, 10am to 2:30pm
MONDAY, FEBRUARY 13th, Fox Vally Summer Activities Fair, Wredling Middle School, 1200 Dunham Rd., St. Charles, IL, 6pm to 8pm
WEDNESDAY, FEBRUARY 15th, University of Wisconsin-La Crosse Summer Job Fair, The Bluffs Room, The 'NEW' Student Union, La Crosse, WI, 10am-3pm
THURSDAY, FEBRUARY 16th, Winona State University Summer Opportunities Fair, Kryzsko Commons, WSU,175 West Mark Street, Winona, MN, 11am to 3pm
THURSDAY, FEBRUARY 16th, Luther College Summer Camp Fair, Dahl Centennial Union, Main Lounge, Luther College, Decorah, IA, 10am to 4pm
MONDAY, FEBRAURY 20th – FRIDAY, FEBRUARY 24th, American Camp Association National Conference, Albuquerque, NM
SATURDAY, FEBRUARY 25th, Minnesota Parent Camp Fair, Como Zoo & Conservatory, St. Paul, MN, 10am to 2pm
SATURDAY, FEBRUARY 25th, DFW Child Camp Fair, The Hockoday School, Dallas TX, 10am to 3pm
SUNDAY, FEBRUARY 26th, DFW Child Camp Fair, Forth Worth Country Day School, Fort Worth TX, 10am to 3pm
MONDAY, MARCH 6th, Stratford Middle School Summer Activities Fair, Stratford Middle School, Bloomingdale, IL, 6pm-8pm
THURSDAY, MARCH 9th, Summer Camps and Part Time Job Fair, Davies Center-Ojibwe Ballroom, University of Wisconsin-Eau Claire, Eau Claire, WI, 10am-1pm
THURSDAY, MARCH 9th, District 181 Summer Camp Expo, Clarendon Hills Prospect School, 100 N. Prospect Ave., Clarendon Hills, IL, 6pm-8:30pm
MONDAY, MARCH 13th, STAGE 203 Summer Activities Fair, Kennedy Junior High School, Lisle, IL, 6pm to 8pm
TUESDAY, MARCH 14th, Annunciation Catholic School, Cave Creek, AZ, 2:45pm to 3:15pm & 5:15pm to 5:45pm
TUESDAY, MARCH 21st, Our Lady of the Lake University, San Antonio, TX, 11am to 2pm
TUESDAY, MARCH 21st, Indian Prairie Summer Activities Fair, Still Middles School, 787 Meadowridge Dr., Aurora, IL, 6pm to 8pm
WEDNESDAY, MARCH 22nd, University of the Incarnate Word, San Antonio, TX, 11am to 2pm
Contact Us Today for More Info About WeHaKee