Featured WeHaKee Alumna: Adriana Almaguer
At WeHaKee Camp for Girls, we are so proud of the fact that our campers and staff come from all over the world to create a community together in Winter, WI. We are even prouder and always impressed by what those WeHaKee women do in their own communities, and how their time at camp brings a little bit of WeHaKee wisdom out into the rest of the world!
A couple of times a month, we would like to feature a WeHaKee Alumna so you can share in the pride and joy of your camp community! 
Our Featured WeHaKee Woman is Adriana Almaguer! As a former camper, counselor, and recruiter, as well as current advisory Board Member, Adriana has blessed WeHaKee with years of her joy and infectious smile, as well as thoughtful friendship and a fun-loving attitude!  Her favorite camp activities were waterski, pottery, art & crafts, tennis, canoe, kayak, and "anything that keeps me in contact with nature." So you can see how she made the most of her time at camp and went on to guide WeHaKee campers to do the same as a staff member. Read more of our interview with Adriana about camp life and life now!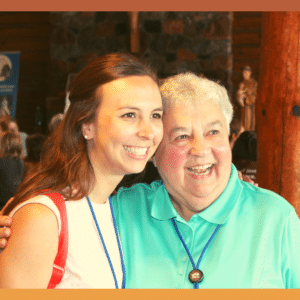 What's your "camp connection?"
1990-1995 Camper

2001-2005 Counselor

2002-2006 Recruiter in Mexico

2019-now Member of the Advisory Board
What are you doing now?
I live in Monterrey, Mexico, where I was born. Since 2008 I proudly run a family business, a bakery founded by my mom 26 years ago.
How has your WeHaKee experience impacted your life?
Camp WeHaKee is a big part of my life. I first arrived there when I was 7 and 30 years later, I still want to go back every summer, which I do every time I can. I had the great opportunity to get to know people from different countries and backgrounds, this diversity helped me developed tolerance and respect for many cultures and ways of thinking. Being there is one of the richest experiences. It helped me develop my character and many lifetime skills. It made me a strong woman.
What are some of your favorite memories of WeHaKee?
-My first summer at camp I was 7. I was 1,700 miles away from home and I didn't speak — English at all. I cried for many nights because I was homesick but at the end of the session I cried even more because I didn't want to go back home. I always thank my parents for giving me this great opportunity.
– Once I visited camp with my grandma, she didn't spoke any English. She stayed in a cabin with the nuns, they didn't spoke Spanish either. The second day we were there, I went to see how she was doing and I found her and the nuns playing cards. I was so amazed that they though her the game and the rules without speaking the same language. That's how camp works!
– When I was a camper I was so scared of the lake and the leaches, we didn't have a pool and we all have to take the swimming test in the lake. I always asked the counselors to put me in beginners so I didn't have to take the test because I didn't want to be around the lake. I was 12 when they started building the pool, they ask for donors to help and I saved money and send Camp some of my savings. The last day I was at camp as a camper, I saw they were filling the pool for the first time. My name was on the shower house wall but I never used it!  When I turned 18, I called S. Arturo and ask for a summer job. I went back, I used the pool, I got certified as a lifeguard, I taught waterski and did lost body drill in the lake. I got a leach during the canoe dunk test and survived! Fears overcome!
What would you say to a camper thinking about going to WeHaKee for the first time?
Don't think it twice. If you have the opportunity, take it! You won't regret it.
What you would want current WeHaKee campers to know?
You are very lucky to be part of the WeHaKee family.
We are lucky to have Adriana as a part of our community! Connect with Adriana and alumnae like her in our WeHaKee Alumnae Facebook group.