Featured WeHaKee Alumna: Brooke Jones
At WeHaKee Camp for Girls, we are so proud of the fact that our campers and staff come from all over the world to create a community together in Winter, WI. We are even prouder and always impressed by what those WeHaKee woman do in their own communities, and how their time at camp brings a little bit of WeHaKee wisdom out into the rest of the world!
A couple times a month, we would like to feature a WeHaKee Alumna so you can share in the pride and joy of your camp community! 
Our Featured WeHaKee Woman is Brooke Jones! Brooke describes her time at camp as fun and joyful, but also incredibly reflective. She took time and energy at camp to really connect with nature, the other campers, and herself.
Born and raised in St. Louis, MO, Brooke is about to graduate with a degree in Chemistry and Biology from Xavier University. She will move on to med school in July, and intends to become an OB-GYN. We hope you will take the time to read Brooke's story and how she carries her camp experience with her today.
Approximately, what years did you attend camp and in what capacities? (What is your "camp connection?")
I attended Camp Wehakee for 4 summers. My first summer at Wehakee was in 2011 when I attended session 1 and for the 3 following summers I attended sessions 2 and 3.
How has your WeHaKee experience impacted your life?
Camp WeHaKee has impacted my growth and my maturity tremendously. At the age of 12, I came to camp and learned not only how to make new friends from across the globe, but how to be independent. I had never been away from my family for longer than a week and camp WeHaKee taught me that you can also find a family in friends. To this day, I keep up with friends from camp and we often reminisce on our time together. Each summer I would come to camp feeling beat up and defeated by the stresses of school and just being a teenager in our society. Camp quite literally felt like a lifeline for me. I would come to camp and feel revived and completely fulfilled through seeing old friends, making new friends, and new memories.  I was able to get away from my phone, social media, and the dramas that came with being a teenager. Camp was a place where I was able to connect with nature and really be present and enjoy my time with friends at WeHaKee.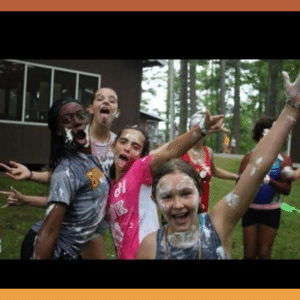 What are some of your favorite memories of WeHaKee?
My favorite memory at camp would have to be finally being old enough to live in the Palace. The Palace was what every camper talked about. Being the older kids at camp and living in the Palace was definitely a privilege that every camper acknowledged. It's bigger than any other cabin so you are able to have more friends in one cabin… and it is right next to the bathroom and showers! The palace was also next to a landing leading to the lake. One humid night it was thunder storming, but the rain had not begun yet. A few of us went and sat on that landing and watched as the lighting within the clouds lit up the entire lake and night sky. I had never seen anything like it. The sky would be completely dark and then you'd see a streak of lightning inside a cloud that would expose the clouds, the sky, and the lake. We as a collective agreed that we had never seen anything more beautiful. My cabin mates and I sat there together for a while, bonding, and taking in the beauty that night presented to us. I'll never forget it.
Another favorite memory of mine was maybe from my first or second summer at WeHaKee. I was returning from the bathroom when I heard rain. I was so confused because I was able to hear the rain but not see or feel it. So, I stood there for about 30 seconds just confused. I had never experienced anything like it. During those 30 seconds, I searched all around me. Looking left and right, up and even down! The sound of rain grew louder and louder and before I knew it rain began to trickle down my left arm and then my head and was soon covering my entire body. It was a beautiful and moving experience. Each time it rains, I think of the time "the rain came to me". That's how I described it to my cabin once I finally returned drenched in water!
What were your favorite activities at WeHaKee?
Water skiing was my ABSOLUTE favorite… and tubing is a close second. Learning how to water ski was incredible satisfying for me. I began not knowing a single thing about water skiing. By the end of a 2-week session, I was able to get around the entire lake and even do a few tricks! Tubing with your cabin mates was just so incredibly FUN. You'd get on with one or two other people and… hold on for dear LIFE! The screams, the shouts, the head bobbing as you went over the wake… so incredibly fun. I can't think of any other way to describe it.
What would you say to a camper thinking about going to WeHaKee for the first time?
Camp WeHaKee is a great camp and I've made memories there that I reminisce about very often. Not only will you make great memories, but you'll meet great people, and make life-long friends. Camp WeHaKee is a second home to me. After my first summer at WeHaKee, I went home and counted the days until I could return again. In just a short two weeks I was able to find comfort and more importantly, a sense of belonging and family. Camp WeHaKee is a great place to be.
What you would want current WeHaKee campers to know?
Enjoy every single second of it! And ask your counselors to take you to the valley or lake front one night. I highly recommend laying or sitting and just looking up at the stars. It's magnificent. Being from a busy city, I've never seen the stars as clearly and as bright as I have at Camp WeHaKee. Take advantage of every opportunity to make memories, friends, and to just be a care-free kid! Oh, and make sure you tell ALLL your friends and family to send you packages! There is nothing better than receiving a package during Valley time!
We are lucky to have Brooke as a part of our community! Connect with Brooke and alumnae like her in our WeHaKee Alumnae Facebook group.