Featured WeHaKee Alumna: Tisha Bolger
At WeHaKee Camp for Girls, we are so proud of the fact that our campers and staff come from all over the world to create a community together in Winter, WI. We are even prouder and always impressed by what those WeHaKee woman do in their own communities, and how their time at camp brings a little bit of WeHaKee wisdom out into the rest of the world!
A couple times a month, we would like to feature a WeHaKee Alumna so you can share in the pride and joy of your camp community! 
Our Featured WeHaKee Woman is Tisha Bolger! Tisha filled many roles at WeHaKee, showing great dedication and spirit for them all. That dedication led her all the way to become the CEO of the Girl Scouts of Minnesota and Wisconsin River Valleys. Working for an amazing organization like the Girl Scouts has Tisha saying, "I feel like I have the best job in the world!" She lives in St. Paul with her wife Deb, dog Henry, and cat Seely. Read on to hear about how Tisha keeps WeHaKee in her heart after all these years!
What's your "camp connection?"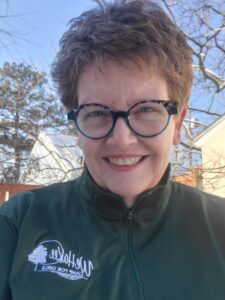 I was attending Edgewood Campus School and had just transferred there in 4th grade-  when SMK came to promote this wonderful place called WeHaKee.  I had to go!  I may be off a year at one end or the other but it was 16 years all together.
Camper 1965-1971  
Kitchen Aid 1972
CIT 1973
Counselor 1974-1981
Tisha also presently serves as a committee chair for our Advisory Board! We are so lucky! 🙂
How has your WeHaKee experience impacted your life?
Camp WeHaKee made me the person I am today! The summer I arrived at Camp WHK for the first time I had ended a school year where I has been bullied.  I transferred into the 4th grade class and had not made many friends and was feeling pretty defeated.  Camp changed all that.  I gained confidence, believed in myself, made friends and found my courage to take risks.  I found my voice and the more I came back the more I grew and blossomed to know what I wanted in life and had the confidence to go after it.
What are some of your favorite memories of WeHaKee?
Olympics, Learning to sail and canoe, Starting the first tripping program with Mary Lawson, Camp outs at Black Lake, Cook outs across the lake, Council Fire-  but most assuredly my best memories were the people! 
What would you say to a camper thinking about going to WeHaKee for the first time?
Anything and everything on the water.  But as a counselor one year, SMK needed a nature counselor and asked if I would do that-I wasn't sure how that would go….  I loved it!
What you would want current WeHaKee campers to know?
Let Camp WeHaKee live in your heart all year long.  When you're away from Camp, or you're feeling sad or something is hard, when you think of camp your heart will be light and you will know that you can do anything! 
---
We are lucky to have Tisha as a part of our community! Connect with Tisha and alumnae like her in our WeHaKee Alumnae Facebook group.