Fridays with Franky: Cabin Creativity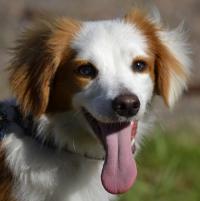 Franky the camp dog here! I slept really well last night. There are SO many playmates here now that Session 1 has started. I run around in the Valley where the girls have their snacks every day, and I get to go with my mom (Camp Director Maggie) when she checks all the activity areas. There's so much going on… I even went on a pontoon ride with an entire cabin and my dad (Camp Director Bob) last night.
The girls have these fun things after dinner sometimes called "Cabin Nights." That's what I was doing on the boat! The girls get together with their counselors early in the session decide as a cabin group what they want to do for their 6 cabin nights. Since it's the WeHaKee campers and counselors coming up with the plan, I've heard of some creative cabin nights. There were two scavenger hunts going on last night, and I heard that another cabin had a dance party in Lauerwood. I know there will be more fun to come, because I saw the plans! Someone came up with the idea to do a relay race in the pool and another cabin is having a "Jam Session."
WOW! That's a lot to keep up with! So I was wondering, since WeHaKee already offers over 40 regular activities for the girls to choose, how do all these fun and unique ideas happen?
It's the campers of course! Giving them the choice and freedom to be creative and come up with fun activities with their peers is really important. They don't even realize it, but they are learning to think in new ways, brainstorm, and compromise. And when it all comes down to it, anything that ends with a scavenger hunt for S'more supplies is okay with the WeHaKee girls!
I'm gonna go take a little dog nap. Gotta keep up with those creative thinkers out there… who knows what they'll do next!