Fridays with Franky: At the Close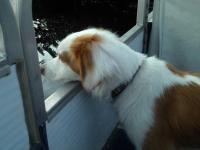 Camp was full of movement and people today, and it wasn't hard to tell something was going on. Unfortunately, the bustle about camp marked the close of our final session of girls' camp for summer 2014. I had so much fun with all the campers, staff, and guests. I cannot believe how quickly time flew by, and I am measuring in dog years! 
Now that your campers are all safe and sound back at home, I'd like to thank you for sharing them with everyone at WeHaKee this summer. They contributed to a wonderful and important community! Here's some things you can ask, do,and about–yourself or with your camper, here at the close of the camping summer (excluding family and mother/daughter camp!)
1. Think back to how you felt before camp. What has changed?
2. Write a letter to a camp friend. 
3. Teach a friend from home a camp song. Invite them along next year. 
4. Go through your camera or the WeHaKee Facebook, choose a picture and have it framed for your bedroom.
5. Make smores in the microwave, over the grill, or over your own campfire. You have to stay in practice for next year! 
6. Remember that there will always be a camp community to support and love you!
Thank you for this summer!
See you next year!