Fridays with Franky: Final Discounts Ending Very Soon!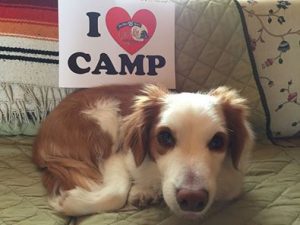 Hi Everyone.  Franky, your Camp WeHaKee dog here! Registration for summer 2017 has been fantastic and running well ahead of last year! Sessions will start to fill up within weeks. Thank you to all of you who have already committed to another summer at Camp WeHaKee, ready to meet new friends and try new activities!
I thought I'd take a moment to remind you that our final Early Bird Discounts will be disappearing at the end of February.  So if you have not yet registered for a great summer along the shores of Hunter Lake, you can still save some cash by doing so this month! But don't wait too long, because on March 1st the discounts will vanish. I know you love camp just as much as I do, so register today to make sure you get your favorite session and save some money, too!
Click HERE to register!
You might also want to know that our sessions will begin to reach capacity soon which means you may not be able to get into the session of your choice if you wait too long. If you have questions, we're always happy to help. So, please CONTACT US at any time!  And don't forget – if you come to WeHaKee, you get to hang out with me! Have a great weekend everyone!