Fridays with Franky: Fourth of July Free Play!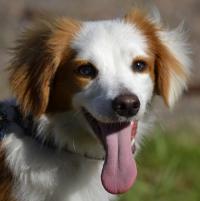 Franky the Camp WeHaKee Dog here! Happy Independence Day everyone! Camp is buzzing with red, white, and blue fun this morning! There's lots planned for this fun day… it's a great day to celebrate and enjoy, even with campers from all around the world. Everyone can enjoy an extra special day at camp!
This morning we had a "lazy morning." After all the buzz of camp so far, it was nice to have a little extra rest. Campers could eat breakfast as early as 8am or as late as 9:15am! Then we all met in the Valley and learned that the morning would be filled with free play. That means the campers get the choice to do what they want! Our counselors were waiting all around camp, ready to help the girls find the activities they want to do before camp is over. With just 2 more full days left of camp after today, this was a great chance to do just that. I saw lots of windsurfers out in the perfect breeze we have up here, some soccer players in the sunshine, and even girls playing dress-up in Lauerwood. It's Independence Day after all—what a great time for a little independence and choice!
I also hear that this afternoon will be amazingly American as well! There are a lot of counselors getting dressed up for a Miss America pageant. And it looks like their coaches will be their knowledgeable campers in their cabins!
I'll be hiding under a chair for this part (sensitive dog ears) but I know the day will end with a bang! The nice property manager Joe will be setting off fireworks! It will be from a safe distance of course… but the girls don't know that is happening! I love surprises, and I know the campers do too!
Happy 4th!