Fridays with Franky: A Gift From Franky for You!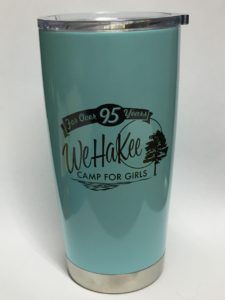 Well, Bob just caught me sneaking onto his computer without his permission. But he forgave me and even helped me with this next offer!
What could be better than getting the gift of Camp WeHaKee for Christmas? How about getting a WeHaKee limited edition stainless steel vacuum insulated Travel Tumbler!
If you register now (through Dec. 21st) for a girls camp session, you get an additional $50 discount off the registration fee.  AND… we will mail you our WeHaKee limited edition tumbler. Plus… you will also receive our Basic Discount of $100, that is a total value of $175!
If you have any questions or need any assistance, please 
contact Bob or Maggie
 at any time. They are always happy to help.   On behalf of everyone at WeHaKee Camp for Girls, we wish you and your family a Blessed Advent and a very Merry Christmas!