Fridays with Franky: Have a Happy Halloween!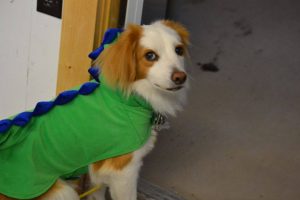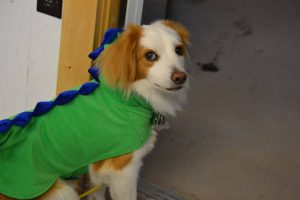 Hi there! Franky the camp dog here. I can't believe it's almost November. One month closer to summer 2017! I'm visiting camp this weekend and almost all the leaves are gone. It makes the birch trees and white pine look really beautiful, but like Bob says, camp is just a nice place in the woods until the campers get here–then it really becomes camp!
Speaking of the end of October, I hope if you are trick-or-treating this Monday that you have something fun to wear. One year I was dressed up as a dinosaur (in the picture above). I don't really get the point of wearing clothes because I have a built-in fur coat, but it was still fun! I want to offer up some tricks and tips (and treats) so your Halloween is fun AND safe. Of course, I am a very smart dog and I know a lot… but I narrowed it down to my top 5!
1.Dress to see and be seen!
I can't wait to hear about your costumes, but just remember to do a test run. You want to make sure your mask doesn't block your vision too much so you can safely cross streets… and figure out which houses have the best treats! 
You'll also want to make sure your costume makes it easy for others to see you. It's a good way to show-off your fun attire, but also makes it safer for you in the dark. Try carrying a flashlight or wearing glow sticks!
2. Watch for the Teal Pumpkin Project
At WeHaKee we want everyone to enjoy eating our food, so we are nut-free. We know certain foods can be dangerous for some people and want to make sure they feel safe at camp. Some kind people decided they want Halloween to feel like that for kids with food allergies. If you can't have some of the typical Halloween treats, look for houses with a teal painted pumpkin out front. They are signaling that they have non-food treats at their house! I know our Business Administrator Thatch has a teal pumpkin… and she told me that her non-food treats are bubble wands shaped like bats!
3. Remember one of the most important camp rules…
Maggie (the Camp Director) always tells me that it's  SO important to thank the bus driver at camp. Without them we wouldn't have the thing we like SO much, but they are easy to forget. 
So who is the "bus driver" on Halloween? Maybe it's the older sibling who walks you house-to-house, or your mom who volunteers to stay home to hand out candy. Don't forget in all the fun to thank the people who make it possible.
4. Be a good neighbor
A lot of neighborhoods have rules about trick-or-treating. Ask your parents to help you find out what the rules in your area are. A good general rule is to only go to houses with their porch lights on, and stop trick-or-treating before the time you went to bed when you were 3 years old.
5. Share–in more ways than one!
You know you'll get more treats than you need in one day on Halloween, and that's fun to trade and share with friends and family. But don't forget to share your candy with your parents first… Don't worry, I'm not suggesting you let them eat it! They should check for anything they think might be dangerous or something you can't eat or play with. They might ask the "Switch Witch" to work her magic on some of your treats. That way you know what you end up with are the best treats ever!
There's my top 5 tips for a Happy Halloween! Please let me know what you think in the comments below, and send me your tips. 
See you at camp!