FRIDAYS WITH FRANKY! I Love the JC's!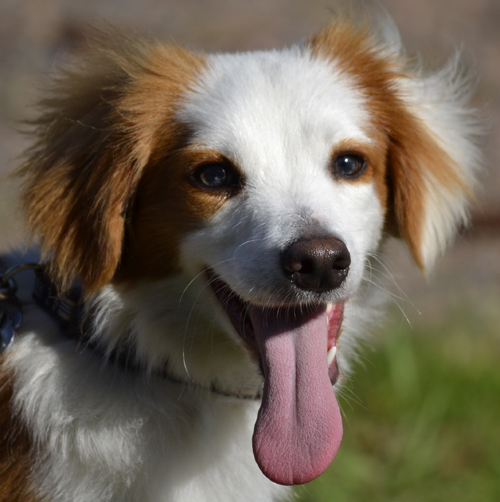 Good Morning Everyone!   It's me, Franky, the only boy they allow at WeHaKee Camp for Girls!   Today I want to tell you about these really neat campers I met.  They are part of the WeHaKee Leadership Academy and they're the oldest girls in the program.   They are known as the JC's, short for Junior Counselors.   They are campers who are in the thrid and final level of the Leadership Academy.   They have been learning skills and techniques to be the best leaders they can be and they get lots of chances to try out and practice their skills at WeHaKee.
I was hanging out with these two JC's in the Valley yesterday and they were telling me all the things they have done just in their first week at camp – they bonded on a field trip to Bayfield, Wisconsin, they have explored values, they've learned about group development, age group characteristics and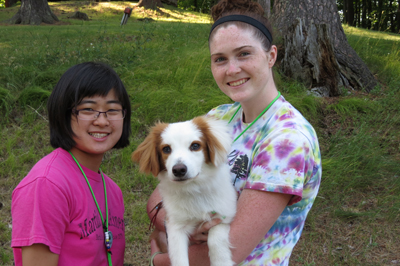 behavior management, they've shadowed and observed WeHaKee counselors in activities and they hosted a panel discussion with several of WeHaKee's key leadership staff.   Today, they get to travel to other camps in northern Wisconsin to compare their program, facilities, staff and philosphies with WeHaKee's.   I can't wait to hear what they learned!
They will be doing more and more with the campers along with the guidance of the WeHaKee staff.   They are already very popular with the rest of the campers and they're doing a great job. Just in case you're wondering – we have two other levels of the WeHaKee Leadership Academy: The Counseler-In-Training I (CIT-I's) and Counselor-In-Training/Program Assistant 2 (CIT-2's).   By the way, the two JC's in the photo with me are just some of the great campers in the WeHaKee Leadership Academy this session and they are going to be many more throughout the summer!
Well… have a great day, a great weekend and I'll see you again next Friday!