Fridays with Franky: LAST Friday of 2017!
Hello everyone and welcome to another Fridays with Franky! The LAST Fridays with Franky before 2018 begins!
2017 was a big year for me. In the spirit of gratitude for this last year, here are some things I am happy that I got to experience. Comment with your favorite 2017 things!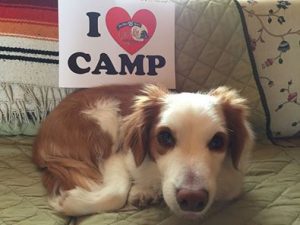 Lots of pontoon rides! Thanks to a generous donor, my new ride was stylish and smooth across Hunter Lake. I'm not very good on a paddleboard or kayak like the campers, but I loved joining lots of cabin nights and lake tour groups. I even joined Bob, Maggie, and Thatch on the pontoon as the leaves changed color for a meeting on the pontoon. I got to lie in the sun, and it seemed like they got a lot done in planning for summer 2018!
New friends! Every summer I have the privilege of meeting girls from around the country and the world. This year girls from the USA were joined by girls from China, Germany, France, Mexico, and many other countries! There were also counselors from Australia, Mexico, South Africa, the UK, and Ireland. Here's to many more trips around the world in 2018 (all from the comfort of Winter, WI)!
Family surrounding me. I miss my camp family every fall, but I am so blessed to have Bob, Maggie, Hannah, and Carina to be near me year round. Like the parents who send their daughters to camp, they make camp possible for me! So I am super grateful to be near them all year, and share my memories of WeHaKee with them!
Anticipation of things to come. I don't want to get ahead of myself, but a lot of 2017 has been about planning for our 95th Anniversary in 2018! 95 years of camp for amazing young women! I wonder how long that is in dog years?
Please share your favorite parts of 2017 with me in the comments, or on my Facebook! If you need more reminiscing, we have a new Facebook Group just for Alumnae. Please go share your favorite holiday decoration or camp memory with us!
See you in 2018!