Meet the 2016 Staff, Part 3
It's me, Franky the WeHaKee camp dog! You know what time it is! Time to meet more of our staff for this summer. The first week I introduced our year-round staff again, and last week we met 4 of our summer staff. By now I'm sure you've noticed new and old faces… and this week is no different. Here are some more introductions from our fabulous staff: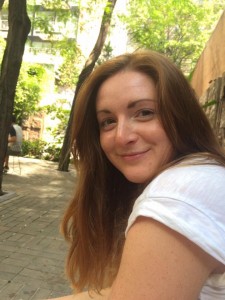 Hola all! I'm Zoe and I'm from Brighton on the South East Coast of England! I'm 20 years old and am currently in my first year studying mathematics with secondary education at the University of Kent, which is in the county in England closest to France! This will be my second summer working at WeHaKee and I'm SO excited! I am rather passionate about tennis and I have completed both the British and American Lifeguard training courses! I also play on my university's netball team and have recently become the University Netball Officer. I can't wait to meet everyone and get back to camp! 
Franky's Fun Fact: When Zoe was younger she says she looked exactly like Lindsay Lohan in 'The Parent Trap'! 
---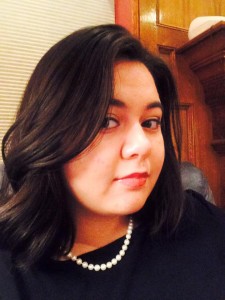 Howdy y'all! I'm Paige Jacobson. Some of my friends call me "PJ". I was born and raised in Houston, Texas. I attend the University of St. Thomas in Houston and study accounting. My passions in life are volunteering, sports, my faith, advocacy for mental health, sports, and sports. I'm OBSESSED with football. Fun fact: I was a wrestler in a high school girls' wrestling team. I did pretty well. I was team captain, state placer, 3-time state qualifier, 3-time regional qualifier, regional placer, and 3-time district champ. I look forward to my first summer at WeHaKee Camp for Girls and meeting all of you lovely people. I'm also excited to not experience the heat and humidity of the TX summer! 
Paige says, "One of the best parts about living in Houston, TX is the Houston Rodeo! It is so fun to see real life cowboys do CRAZY things with bulls and horses. Have you ever seen a grown man wrestle an angry bull to the ground?" I'm a little dog, I think I'll stick to chasing squirrels rather than wrestling bulls!
---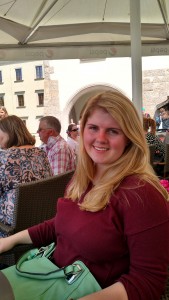 Hello! My name is Julia Rowinski! I was born and raised in Lemont, IL, a town about 30 minutes south of Chicago. I am currently majoring in Animal Sciences at the University of Kentucky, with a minor in Biology. I am a part of a professional agricultural sorority here at the University of Kentucky. I was a camper for what I believe to be 6 years, but I was having so much fun I lost count. I am very excited to now be apart of the staff this year! I enjoy baking, horseback riding, and knitting. I can not wait to meet or reconnect with y'all!
Franky's Fun Fact: Julia loves to walk and go for hikes. Me too, Julia! She says: "If you ever find yourself in Kentucky I recommend taking a stop at the Natural Bridge at Red River Gorge."
---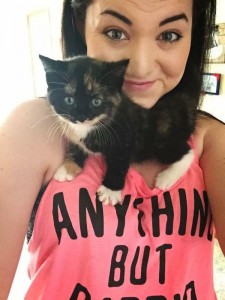 Hey I'm Spencer and this is Miley. 🙂 I'm an Early Childhood Education major at MWSU in Saint Joseph, Missouri, hoping to be a kindergarten teacher soon! I was a competitive swimmer for 7 years, I can spend hours crafting or reading, and if I could I would take home every kitten I saw (my two kittens are my children). This will be my first summer at camp and I'm so excited to meet everyone and make some great memories!
Spencer says, "If I was a talk show host my first guest would be Stephen Curry (an NBA player for the Golden State Warriors) because he started from the bottom, no one believed he would go far, he worked every day and is now considered the best player in the world and still continues to keep working and being modest. He is truly my inspiration." 
---
Thanks again for tuning in to learn more about our staff. There are plenty more introductions to be made, so I will see you next week!