Fridays with Franky: Oh-Oh, Franky's Gifts Are Going Fast!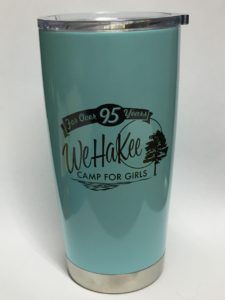 You've already heard how you can get your hands on a WeHaKee limited edition stainless steel vacuum insulated Travel Tumbler, right? Well, now's the time to get one, because they're going fast and there are only a few left! Here's how you can get yours since they're going fast!
If you register now (through Dec. 21st) for a girl's camp session, you get an additional $50 discount off the registration fee.  AND… we will mail you our WeHaKee limited-edition tumbler. Plus… you will also receive our Basic Discount of $100, which is a total value of $175!
If you have any questions or need any assistance, please 
contact Bob or Maggie
at any time. They are always happy to help. On behalf of everyone at WeHaKee Camp for Girls, we wish you and your family a Blessed Advent and a very Merry Christmas! And have a great weekend!!