Where in the World (Online) is WeHaKee?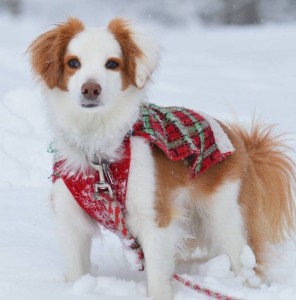 Hello there, Franky the camp dog here! Registration for summer 2017 is well underway, and I am already looking forward to having the girls back at camp so I can run around with them! 
Lots of the campers will be returning from last summer, but as always, a large group will be new to WeHaKee. This makes me so happy–I love hearing new stories, new ideas, and watching new campers make WeHaKee their home away from home! I thought I should do something in the fall to make those campers feel like they are already at camp, and to remind the returning campers what they have to look forward to! 
So here it is, Franky's master-post of the WeHaKee World Wide Web (online) Experience. Where to find me and highlights you should read as a WeHaKee camper or parent or camp friend.
Firstly, if you don't know who I am, you can read the story of how I found my family, and consequentially the larger camp family! It's a great story I like to tell every year. I love being the camp dog: being outdoors all the time, making new friends, and knowing that I am incredibly blessed to know WeHaKee, just like all the campers.
Maybe you found the blog via one of these avenues, but there's much more on all these platforms about WeHaKee:
WeHaKee Camp for Girls on Facebook
During the summer we post a photo album for each session as well as updates and news from camp. During the off-season, you might find throwback photos, articles of interest, and where you can meet up with WeHaKee when we go on the road. 
Franky the Camp Dog on Facebook
I have my own Facebook account because I want to be friends with all our campers. It's a great way to tell people about my blog too! 
WeHaKee Camp for Girls on Twitter
A great place to find out quickly what we are up to, with links to articles or pictures. Follow us and we will be right on your feed!
WeHaKee Camp for Girls on Instagram
Camp is a beautiful place. We saved up lots of pictures to share over the winter to remind you of camp… but stay tuned for the occasional WeHaKee Winter picture. It looks completely different covered in snow!
WeHaKee Camp for Girls on Pinterest
We are always looking for new ideas for camp. Go follow our boards on Arts and Crafts, crazy s'more recipes, campout food ideas, and much more. It will put you right in the camping mood. I'm going to see if I can pin some links for deluxe lakeside doghouses!
Last but not least, don't forget to stay up to date with all the blogging we do! Here are some of my recent favorites:
Fall Activities to Remind You of Camp
While it might not seem like camp and technology go together, we know the incredible blessing we have today of being able to stay connected online! I'll do my best to keep you updated online about the goings-on over the winter, and then we can all re-connect and unplug in the summer. Please send us messages, tweets, and even snail mail! 
See you at camp!