Fridays with Franky: Reaching Out on Christmas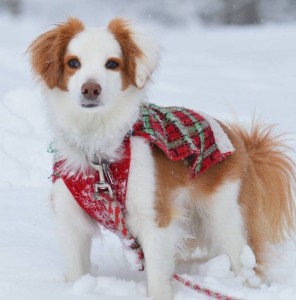 Merry Christmas everyone, from Franky the WeHaKee Camp Dog! I know it's still a couple of days away, but I'm worried I won't have the time to say hello on the day. Speaking of that, I wanted to talk today about the wonderful chance you have this holiday season to reach out to everyone around you.
Maybe you are spending the holidays with your immediate family or the people you live with. Or maybe people are traveling from far away to see you. Perhaps you are traveling yourself! In any case, you will be seeing and interacting with a least a few people as you celebrate this wonderful season. 
Bob wrote an awesome blog post about what Christmas truly means. You should definitely go watch Linus explain the true meaning of Christmas because it will help you with my next suggestion!
My goal this Christmas is to reach out. Just like the angels and the shepherds and Jesus himself did on this miraculous day when good news is shared, there is a coming together of all different kinds of people. You might experience that too! At church, at home, or even in line at the store with the rest of the last-minute shoppers. 
So here's my challenge: do your best to reach outward to all these people around you. Ask the cousin from far away about their school or work. Smile at the people in line with you at the store. Give a cheery wave to someone in church or in the airport. 
It's all too easy to put your head down during the hustle and bustle, but remember the coming together of Mary & Joseph, the shepherds, and angels, and later the magi… and reach out!
So Merry Christmas everyone! I'm going to do my best to have time to say hello throughout this whole season!