Fridays with Franky: Road Trip Diary 2017
Hello everyone! It's Franky the WeHaKee camp dog! Bob, Maggie, and Thatch have been on the road for almost 3 months and our recruiting season for summer 2016-2017 is done! We are of course still accepting registrations and staff applications for summer 2017, but I can't help but think that this means summer is getting SO close.
I can't wait to meet all the campers and staff who will form the WeHaKee community of summer 2017! Here's where we looked for them:
(Skip to the bold text for more info about why and how we recruit)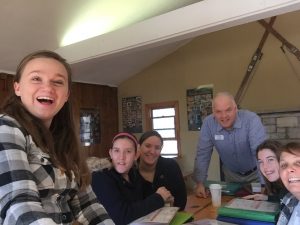 In the Chicago area we met campers past, present, and future at our Open House events in Riverside and Northbrook. We love our wonderful WeHaKee network in Chicago, and would be back several times before the season is up!
Maggie and Thatch made the drive to St. Louis. Not only did a former WeHaKee camper stop by, but it was nice to see other camp directors at the camper recruiting fair!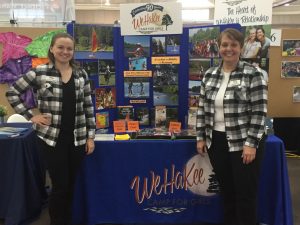 Only a few days later Bob and Maggie took in some beautiful scenery as they stopped by Valparaiso, IN to find amazing staff on their way to Nashville, TN to find amazing campers!
WeHaKee was in two places at once–Maggie spoke to the talented students at UW-River Falls about the Best Summer Job ever while Thatch did the same in Mankato. Our summer 2017 Horse Director came by to say hi to Maggie–stay tuned to future Fridays with Franky to find out who it is! 🙂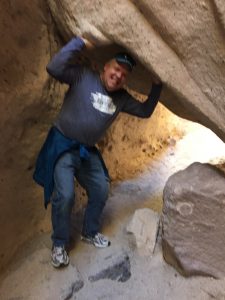 Into the middle of February the return to the Chicago area came about in the form of the Fox Valley Summer Activities fair, but not before the whole WeHaKee Leadership Team teamed up to recruit staff from UW-LaCrosse!
The very next day-Maggie to Winona State, Thatch to Luther. Two former (and returning for summer 2017) staff members made an appearance at Luther… again, stay tuned to find out more!
The American Camp Association conference in Albuquerque brought the chance for learning and professional development for the team. And a quick hike as well… we love our nature!
Thatch flew back quickly to recruit in her backyard of St. Paul, MN  at the Como Zoo. A recently hired staff member made an appearance, as well as a returning camper!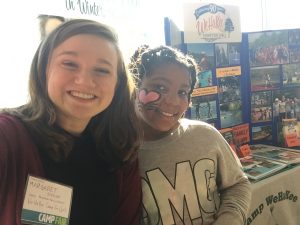 Bob and Maggie racked up the miles–NM to TX for the DFW Child Camp fair!
March was upon the team, bringing another amazing Illinios trip for Bob to say hi to more awesome future campers! Thanks, Stratford Middle School!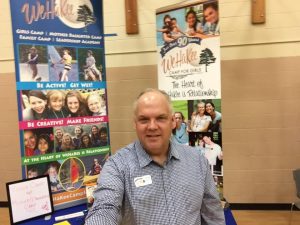 Later the same week, Thatch talked summer jobs at camp with UW-Eau Claire students while Maggie took another turn in Chicago at a camper fair! Thatch would also make her way to Lisle, IL just 4 days later. 
Bob and Maggie were hosted in Phoenix, AZ by two of our amazing volunteer summer nurses. Thanks for making camp visible to potential campers in AZ!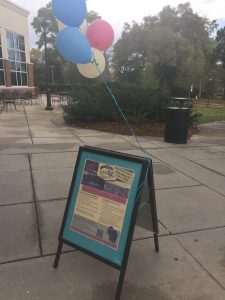 The Southern Swing for Summer Staff then began. Bob made the drive down to TX and visiting Our Lady of the Lake and the University of the Incarnate Word. (Maggie was in Chicago, again!) Thanks to the Hull family for hosting in TX, see you at camp!
The drive continued for Bob when he swung over to pick up Thatch from the airport in New Orleans so they could visit Loyola, Xavier, Southern Miss, and Spring Hill college. There were amazing students at each school who we hope will round out our amazing WeHaKee staff.
WHEW! So why does the WeHaKee Leadership Team travel so much to recruit campers and staff?
Wisconsin is a great place to be in the summer! 
We want WeHaKee to be reflective of the world, so that all girls can experience camp and meet different people to form a new community.
We want our WeHaKee staff to look like our WeHaKee campers–meaning that our diverse camper population has a diverse staff population as role models.
We know a personal connection is important when deciding where to go for summer camp. And we want to meet YOU in person.
So, did we miss a spot? Did we come to your school or town or area? Should we be coming to your town to talk about WeHaKee?
Drop us a line! Leave a comment below or on our Facebook telling us where you think we should come next year, and we will do our best to get in on the calendar.
For now… SEE YOU AT CAMP!