Fridays with Franky: Session 2 and Girls of Many Nations
Good morning everyone, Franky the camp dog here! Session 2 is underway and lots have been going on. Both buses arrived with girls from all around the world, and many cars pulled on to Barker Lake Road to drop off more campers. So far, all the campers have gotten to know their cabin mates and counselors, had a couple of meals in the dining hall, and met the camp nurse. They tie-dyed a t-shirt, had a swim check and learned all about our waterfront. There were tours of camp and time to figure out how to find where activities were meeting. Yesterday afternoon the girls had 2 activity sessions and this morning 3 more, all activities they requested before coming to camp.
Last night at the Welcome Ceremony, we heard from each cabin as they came up with a song, chant, or skit to introduce themselves to the whole camp. There were some creative ones–a sleeping bag dance and a couple of song mash-ups!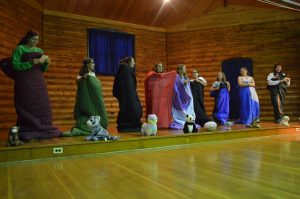 Coming up tonight is a cabin night, a chance for the campers to do something with just their cabin that they chose as a group. I've heard that there is Stand-Up Paddleboarding, a Pool Party, and even Wet Sponge Dodgeball!
There's something else I have noticed about this session, and many other summers at WeHaKee–There are a lot of flags on our flagpole! Lots of girls from lots of places have come here to join together in all these fun things I have been talking about. If you're reading this, you should head over to our Facebook page in about a week to see pictures of this session's flag ceremony. Girls from Mexico, Colombia, Canada, and many more places will share their flag and anthem with us, along with girls from Illinois, Texas, Tennessee, Florida, and other states! 
WeHaKee is truly the place to make friends from all around the country and the world. It gives all of us here the chance to expand our horizons while doing some pretty fun things! I encourage you to write to your campers and asked them about the people they have met as well as the things they are doing!
See you next week!