FRIDAYS WITH FRANKY! Thanks For A Great Summer!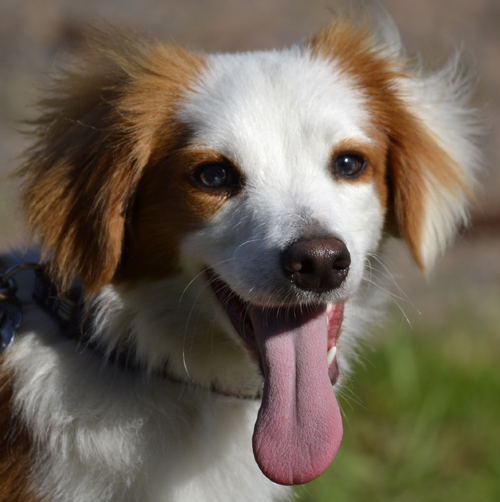 Hi Everyone ~ It's me Franky back with another of my weekly posts! You know, with the rush of wrapping up camp and moving back to La Crosse, I didn't have much time to say thank you to all who made my first summer at WeHaKee fantastic. I had a wonderful time and appreciate how everyone welcomed me (a boy!) into the WeHaKee community.
As some of you know, Maggie and Bob (with some persisitent encouragement from Hannah & Carina!) adopted me and brought me into their home just a few weeks before moving up to WeHaKee. As much as I was thrilled getting away from the 16 other dogs I was living with at the time, I was pretty nervous about my new home. And just as I started getting used to the Braun family home, they up and moved me to Camp WeHaKee. I just didn't know what I was getting in to!
Well, little did I know that the staff instantly loved me and played with me any chance they had (Boy, do I miss that!!) Then the girls arrived for the first session and they all wanted to pet me and play with me, too. Wow, did I ever like that, especially during Valley Time each afternoon! I couldn't wait to get out and charge across the Valley and see how many of the girls would come over to play!
Although I was exhausted and coming back to La Crosse gave me some time to relax and recuperate, I really miss all of the people I met and all the fun times I had at WeHaKee. I can't wait to head back in just 8 short months!
So… Again thank you to all of you who welcomed me to WeHaKee Camp for Girls. I really enjoyed meeting you and becoming your friend. Thank you for playing with me – it was SO much fun! I am looking forward to seeing many if not most of you next summer – Registration is open, click HERE! – and I hope you all have a great year!
Since I miss all of you so much, if you have any cool photos from this past summer that you'd like to share, please send them to me at Info@WeHaKeeCampforGirls.com! I can't wait to see them!
Thanks for joining me this week. And have a great weekend everyone!