Fridays with Franky: Welcome Campers!
Hello friends, Franky the camp dog here to give you a dogs-eye-view!
Wow… What a crazy week! The first session of campers have arrived and, boy, were there SO many new smells! I tried my hardest to sniff out who had the best treats in their bags… but so far, no luck. Thankfully my new friends gave me a lot of welcoming belly rubs.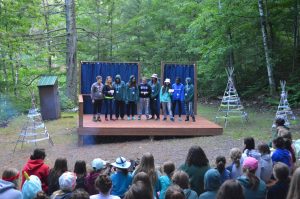 At the beginning of every camp session, some of my favorite things to watch are the performances put on by each cabin. Cabins' take turns going up on stage introducing themselves to the group through silly songs and dances. I love howling along to the great camp tunes!
Next, we hiked The Chickagami Trail. I, of course, had to stop and sniff EVERY tree. I'm always curious about what my furry forest friends are up to. I also like to doggy paddle around on safety patrol while the girls are having fun kayaking, swimming, sailing, and water-skiing. 
I love the start of camp season because it always smells of campfires. I like to wait around the fire in hopes that one of my new friends will drop me a marshmallow. If you want to check out some more pictures from our first week of adventures, check out our Facebook page!
Talk to you next Friday!
Franky <3