Fridays with Franky: WeHaKee Is An Accredited Camp
"ACA Accreditation means that your child's camp cares enough
to undergo a thorough review (up to 300 standards) of its operation,
from staff qualifications and training to emergency management."
WeHaKee Camp for Girls has been accredited for several decades.   In addition, the directors, Maggie & Bob Braun, are both ACA Accreditation Visitors – which means they have the credentials and are certified by ACA to visit other camps to review and score those camp operations against the set standards of the ACA accreditation program – ensuring that they are well versed in the application of the standards for the operation of WeHaKee.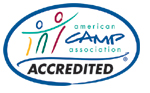 Creating a welcoming and exciting camp community and one that is safe and developmentally appropriate is a lot of work.   Participating in the ACA Accreditation program offers a comprehensive framework to guide a camp to successfully providing quality experiences for every participant.   It is important to note that only 1 in 4 camps across the country have achieved ACA Accreditation and WeHaKee is proud to be able to post the accreditation logo on all of their materials!
Well, thanks for hanging with me today.  Have a great weekend!