Welcome Back Maddie and Carina!
Happy Friday everyone! It's only a few short months until camp starts, and that means you have to get to know our staff team! Over the next few weeks, I'll be introducing our entire summer staff, or rather, letting them introduce themselves on the blog! 
However, this week I wanted a little more info. We've hired a pretty amazing Leadership Team for summer 2019, to support and serve our counselors. The Leadership Team includes a Program Director, Leadership Academy Director, Horseback Riding Director, Business Manager, Waterfront Director, and Head Counselor–as well as Bob, Maggie and Thatch! These jobs encompass a lot, so I decided to interview this year's hires so you know a little more about how they support the community! 
First up this week, our Program Director and Leadership Academy Director… and you may recognize them!
Hi everyone! My name is Carina, I'm from La Crosse, Wisconsin, and this will be my 15th summer at WeHaKee and my fourth on staff. I'm so excited to be returning as the Leadership Academy Director this year! I just finished my undergrad at Loyola University in New Orleans in Music Industry Studies and am currently studying for the LSAT (law school entrance exam). I love camp, especially the water skiing and the being outdoors all day 🤗
(Ps. I am the chubby one whose cheeks are suffocating my face)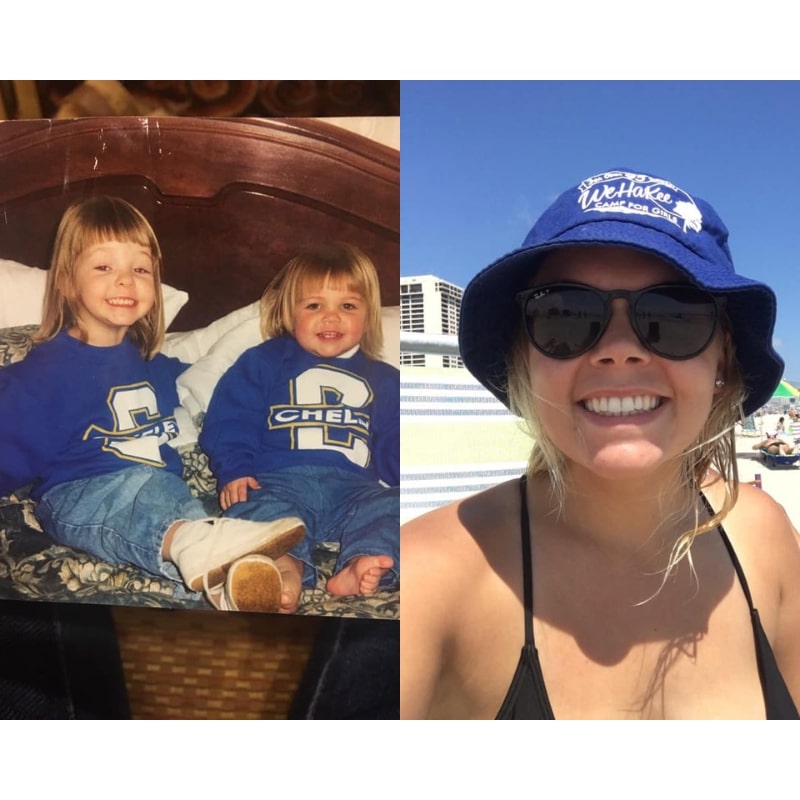 I asked Carina to tell me more about the Leadership Academy. She's got quite the perspective, since she has lead the program, participated in it, AND presented at the ACA National Conference about it!
The best part of the leadership program is definitely the ability it has to give the older girls more responsibility at camp. They want to show that they can be independent and good role models to the other campers, and the leadership academy let's them do exactly that! 
I hope this year's leadership girls learn how to listen to one another and share ideas and thoughts in order to solve problems and create fun experiences. I think something that our world could use more of is open ears and open hearts, so I'm hoping these girls can be those open ears and open hearts for one another and other campers. 
The leadership academy enhances camp by, again, giving the older girls a sense of independence and responsibility, but also by giving the younger girls great older models to look up to. It helps build a stronger community overall. 
Campers should register for the leadership academy because it's an experience like no other! Not only does it teach you how to be a great counselor and role model, but even more, it teaches you how to be a leader in all areas of your life. Girls in the leadership academy have been able to take their experiences and apply them to situations in school and at home in positive ways. We need more women leaders and camp is the perfect place to start! 
Welcome back Carina! If your camper is 15-17 years old, check out more about the program
HERE
.
---
Another familiar face who will work closely with the Leadership Academy is Maddie!
HI EVERYONE! My name is Maddie and this is going to be my 5th summer at camp and 3rd as Program Director. It is hard to believe it has been 5 years since I started working at camp!! I am originally from SW Wisconsin but I now call Iowa home and I live in Des Moines where I teach high school social studies. I love everything to do with the water so I thought it was only appropriate to show two photos of me waterskiing. The first photo was the day I learned to waterski (I was 5). The second photo is me after my college graduation last spring (I was 21).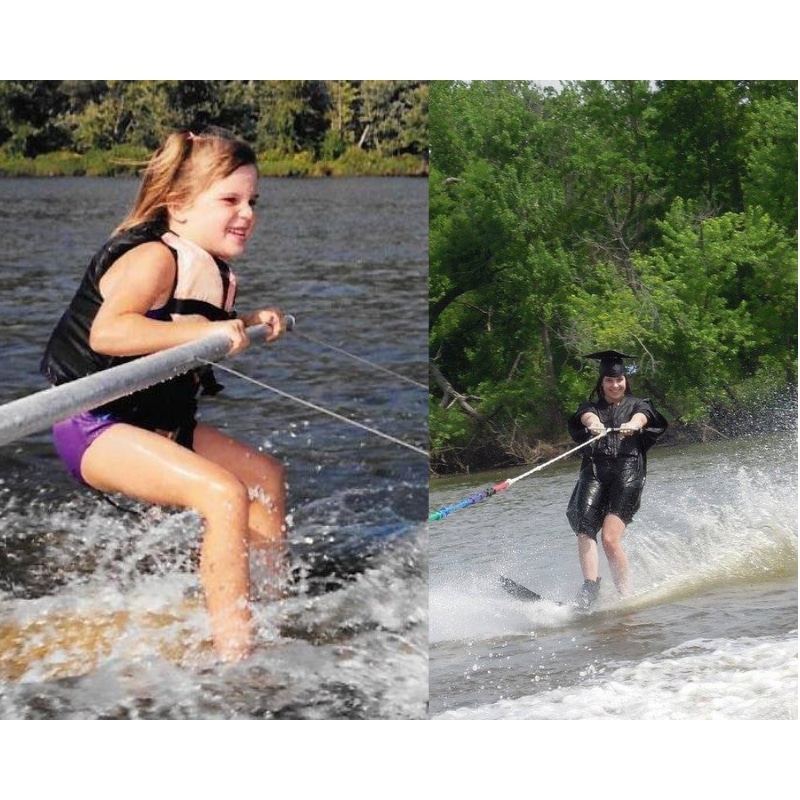 Maddie will work hard on special programming like cabin nights, activity nights, and special events. I asked her more about what that was like.
The best part of my job is probably getting to be involved with everything. I get to pop in and out of places all over camp while getting to know all of the girls. I love seeing every girl on camp everyday!
I think the relationship that WeHaKee campers have is what is so unique. I know every girl on camp and I build a personal relationship with them throughout their time here. I think every girl at WeHaKee knows that she is cared for here and that she has a group of people supporting her.
I really enjoy working with the Leadership Academy on special events. I like learning about all of them so I can help support them while at camp. I love working with our leadership academy girls because they grow so much through every level of our program and being able to see that growth is awesome. These girls bring so many new ideas and perspectives when they arrive at camp that truly make each year and each session so unique.
My favorite memories at camp are WeHaKee Moons. Mary WeHaKee has such a powerful spirit at camp and you truly get to feel her spirit when she comes during a WeHaKee Moon. Even after the night is over, you can feel her spirit live at camp. The girls embody her love for the outdoors and her kind heart and they really feel all that WeHaKee is. 
We are so glad to have your leadership again Maddie!
---
Maddie and Carina can't wait to see you at camp. Register here if you haven't already!