Sunday Snippet: Camp Is College Prep!
Each year as we gear up for another great summer at WeHaKee, we often hear the unfortunate lament from some of our older girls that they really want to return to camp, but feel they can't because of the need to enroll in summer pre-AP (advanced placement) or IB (international baccalaureate) classes and activities that will improve the chances of getting into a college of their choice. One recent article explores the rate of diminishing returns countering the push to take more & more AP ir IB classes! Another article suggests that this is a significant misconception as the continued summer camp experience provides a comprehensive set of opportunities to help girls and young women be much better prepared on the whole for the college community experience!

The push to load up on AP & IB classes has been surging with the thinking that these courses help students better prepare for the rigors of college academics. So the more you take the better prepared you will be, right? Not so fast! By looking at GPA's and entrance exam scores of college students, researchers at the University of North Carolina examined this line of thought and found that a few AP/IB classes may in fact help to increase college GPA's slightly, but piling on more and more AP/IB courses in high school generally has little effect – Study Finds That More AP Classes May Not Be Better.
With that in mind… consider the question 'Camp or College?' It's really kind of an irrelavent question when you examine the comprehensive nature of the camp experience. At least according to Stephen Gray Wallace, MSEd who recently penned an article with that question in it's title; Camp or College? Families Face a Hobson's Choice. College preparation has risen to new heights with percieved added pressures to pad one's college-bound resume quantitatively with as many different activities as one can gather with the seemingly caveat that the one with the most wins!
On the other hand, as Mr. Wallace points out, schools such as Vanderbilt University are recognizing the fallacy in this thinking and are instead recommending that students also seek their passion outside of the classroom and "pursue it to its fullest!". Vanderbilt goes on to indicate the "it's equally (if not more) impressive to see a student who is involved in just a few organizations during high school and is in a leadership position in each of them". It is coming clear that quality is becoming more embraced over quantity!
"One such passion for many is the summer camp experience through which
teens may have ample opportunities for leadership and service"
Achieving intellectual advancement is but one quality needed to excel in the college environment. But comprehensive success at the college level requires skills in leadership, service and independent living for overall success in the college community. Wallace emphasizes and we agree that the skills that kids learn at camp are directly in line with what many consider to be the 21st century skill set:
Flexibility and adaptability
Initiative and self-direction
Social and cross-cultural skills
Productivity and accountability
Leadership and responsibility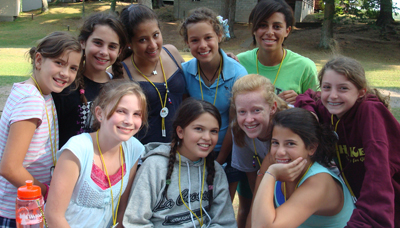 Sounds like camp IS a great option as one positions herself in the overwhelming pursuit of meaningful college preparation! Wallace went on to ask several teens what they thought of the transformative nature of the camp experience and how did it influence their preparations for college. Here are a few quotes from his article:
"Camp has helped to prepare me for college
in that it gave me a sound grasp of the principles
of moral reasoning, integrity and honesty,
and it helped me analyze my personal strengths and weaknesses
in a constructive manner. I feel I am able to approach unfamiliar situations
with confidence. I learned to respect the needs, views and feelings of others
and to always be open-minded."
"My development as a leader has been my most significant accomplishment.
The values that I've gained from going to camp
have served me well in my everyday life."
"Camp has single-handedly prepared me for college
more than any other activity I have been a part of.
Camp helped mold my people skills and also helped me
become more outgoing as a person.
More importantly, camp has prepared me for the hard work
and dedication that college requires of me"
One might consider that value of the camp experience appears to have considerable more weight than previously thought. Without a solid set of 21st century life skills, the percieved advantage of all of those AP/IB classes quickly evaporates. SO… great education is not an exclusive element of the classroom, it's happening at Camp WeHaKee, too! And with a whole lot more FUN!
Have a great week everyone!