Choosing The Right Camp for Your Daughter
Intrigued by this concept of camp, but worried about sending your child away or a fews days or a few weeks? Don't be alarmed! If you have not attended camp yourself, that is a normal and natural reaction.  The right camp experience can be one of the most powerfully positive experiences your child will have, but it can also be fraught with considerable parental anxiety along the way.  The key is finding the best camp for your child.  Yes, talking with friends and neighbors can be a way to uncover some camps that might work for your child, but there's no guarantee that what is great for their child will be equally as great for  yours.  So what's a parent to do??
Well, it's all about finding the right fit! At WeHaKee Camp for Girls, as much as we want every girl to join us on the shores of Hunter Lake, we know that it comes down to finding a camp that is the right combination of factors for the camper!   We thought we would share some thoughts and questions parents can consider to help make sure their child has the most successful, fulfilling, safe and fun camp experience they possibly can!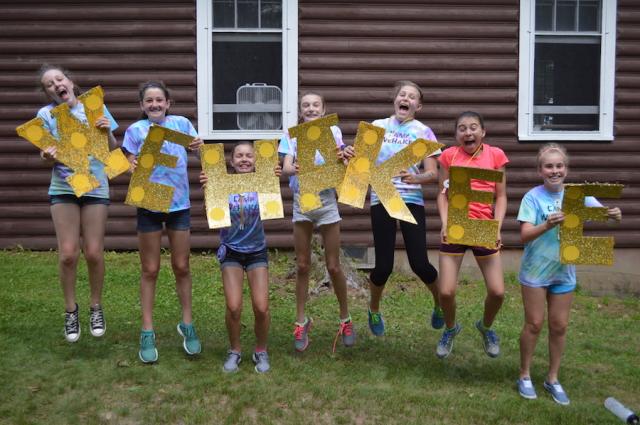 FINDING THE RIGHT CAMP FOR YOUR DAUGHTER IS ALL ABOUT FINDING THE RIGHT FIT!

QUESTIONS TO ASK YOURSELF AND YOUR DAUGHTER:
Do you want a camp with a traditional, nature-based camp experience or a specialty (sports, arts, etc.)
At WeHaKee Camp for Girls, we provide a tradtional camp experience that allows each girl to explore multiple areas to help her disocver her talents and gifts.   We also provide an environment that enhances each girl's ability to make friends and develop strong, lifelong relationships with girls from around the country and the world.
Do you want an overnight/resident camp, day camp, family camp?
WeHaKee provides an overnight camp experience that helps girls build their confidence and independence.   Our highly skilled and compassionate counselors help them have a successful and safe experience.   We also offer Family Camp & Mother/Daughter Camp!
What length of session would best fit your child?
WeHaKee provides 2, 4 and 6-week options for girls.   The longer time frame allows each girl to receive in-depth instruction in 10 program areas with plenty of time to practice and enhance their new found skills!   In addition, each girl becomes committed and connected to their special camp community!
Do you want an all-girls or co-ed experience?
WeHaKee Camp for Girls, as it's name implies, is an all girl setting.  Research has confirmed that girls in a single-gender setting are much more comfortable stepping out of ther comfort zone and excel in ways not commonly seen in a co-ed envornment.
What is the price range you can consider for this experience (keeping in mind many camps offer scholarships and financial assistance)
WeHaKee's fees are competitive with other private, premium resident camps.   We do offer a financial assistance program to help girls of all backgrounds experience all that is WeHaKee!
QUESTIONS TO ASK THE CAMP DIRECTOR:
What are the benefits of attending your camp? What are the camp's goals for each camper?
WeHaKee Camp for Girls provides girls and young women opportunties to try many new things to help discover the talents and gifts that may not be nurtured elsewhere.  We also provide an intentional and compassionate environment where girls learn to enhance their social skills as they develop friendships with girls of diverse backgrounds from throughout the country and the world.   Our goal for each girl is that she first acquire a sense of belonging in our camp community so that she will build her confidence and independence to try new things and meet new people!
Is your camp accredited by the American Camp Association (ACA)?   If not, why not?
YES!  WeHaKee Camp for Girls is accredited by the ACA and has been for decades.   This means we meet or exceed nearly 300 standards related to safety, health, camper development, program integrity, facility management and more!
What activities are available?  Can you describe the daily schedule?
WeHaKee provides nearly 40 activity choices.   Each girl designs her own program by choosing 10 activities in which she will receive 5 hours of instruction in each activity.   The day begins with breakfast in our lakeside dining hall followed by cabin clean-up and 3 activity periods.  We then have lunch, quiet time and then 2 more activity periods. The late afternoon consists of 'Valley Time' where girls can enjoy their afternoon snack, visit the camp store and then can choose to enjoy our heated pool, waterfront activities or hang out in the valley playing games and just relaxing! The evening involves a cabin night activity, or an Activity Choice Night, or a campfire or special event – all followed by evening prayer in our lakeside chapel.
How do you select, screen, train and monitor your staff?
Every staff member is interviewed by our Camp Directors.   They must submit 3 references which are each checked by the Directors to confirm that their skills and character match WeHaKee standards.  They also receive a criminal background check.   They participate in 10 days of intense training in the areas of health & safety, youth development, behavior management, program design & implementation, positive role modeling and much more.   No less than 2 staff are assigned to each cabin and activity area.   The Directors and Assistanct Director are consistently out and about, monitoring the activities as well as the interactions between our staff and campers to ensure our staff remain strong, positive role models to our campers. 
What are your communication policies (re: phone calls, cell phones, email, etc.)?
To ensure the integrity of the confidence and independence building within the camp community, campers do not have access to cell phones, camp phones, email or other electronic communication devices.   This allows them to be focused on their own self-improvement as well as building strong relationships with the other girls.   Parent however may communicate with WeHaKee at any time to check in and see how their daughter is doing at camp – we are always happy to give you a full report!
How do you assist a homesick camper… a camper having difficulties adjusting or fitting in?
We take a proactive approach by helping each girl acquire a sense of belonging the moment she arrives at camp – if she feels she is an important part of the camp community, she will be less likely to miss home intensely and more likely to immerse herself in her activities, cabinmates and camp life.   Although each girl will likely experience moments of missing home, she will have the confidence to know she can percevere and have a great time at camp.   If a child does have more significant issues with homesickness or challenges adjusting to camp life, we will be in touch with the parent early in the process to collaborate our approaches to better help her adjust and succeed!
When do you contact parents (re: homesickness, illness/injury, misbehavior, emergencies, etc.)?
As stated above, WeHeKee chooses to connect with parents early in the process when an issue arises that needs more attention than normal camp life.   We recognize that the parent knows thier child best and can provide additional insights into how best to help their child have a safe and successful WeHaKee experience!  
Can you provide references from current families?
We are happy to help you connect with current families to gain their perspective of the WeHaKee experience! 
Here are some other resources available to determine the right camp for your child:
How To Choose A Camp: How To Prepare For Camp
10 Questions to Ask When Choosing a Summer Camp
Distance is Irrelevant When Choosing and Overnight Camp 
Once you have had the chance to consider these questions, please give us a call.   We are always happy to help at any time.   Have a great week everyone!