Sunday Snippet: Faith In Action At Camp!
An interesting article slid across my virtual desk recently and it reminded me how valuable spirituality really is at WeHaKee.  In Where Faith Still Thrives! Summer Camps and the Future of the Church, (The Huffington Post, May 23, 2014) contributor, Wayne Meisel suggests that camp is one of the most significant influences on faith development for those kids fortunate enough to attend many camps.
"Summer camp is the most significant institution
in making the church relevant to the lives of young people
and for identifying leadership for the church.
It is the minor leagues for church membership and leadership." Wayne Meisel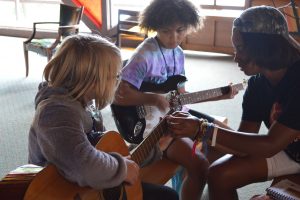 We at WeHaKee Camp for Girls wholeheartedly agree! Yes, we are a ministry of a Catholic order of Sisters (The Dominicans of Sinsinawa) and therefore a Catholic camp. Engaging remarkable forethought however, the Sisters insisted since the camp's founding in 1923, that WeHaKee be a welcoming and accepting camp for all girls – a standard that remains true today.  It is not a place where theology or bible study is taught, rather it is a real, live community where campers can observe strong and positive role models – role models using their values and spirituality in everyday life – and practice what they observe within the  community and within their own lives.
In his article, Meisel shared some reflection from his own camp experiences as a child and how they helped shape his faith development:
• The Golden rule made sense — if you were going to live inches away from a dozen other campers, you'd better figure out a way to get along
• If I got out of line there was someone there to walk me through it and help me learn from my mistakes
• Bullying was dismantled, cliques didn't exist, and I found myself in fellowship with friends from the time I walked on to the camp grounds until the time my parents picked me up on the last day
The same kind of experiences occur every summer, every session and every day at Camp WeHaKee. Campers learn to live in harmony with others, they have counselors who will guide them if they struggle in an activity or if they need helping making better behavioral choices, and the unhealthy social boundaries that often create tension and conflict in school or neighborhood settings simply dissolve in the camp environment allowing each camper to feel valued for who she really is.
The faith development a camper experiences at WeHaKee may manifest itself in many ways when she returns home, ways that may not seem religious or church based. WeHaKee parents consistently share that when their daughter returns home, they see a girl who is embraces her responsibilities with less resistance, who displays increased care for others, and shows enhanced sensitivity to those around her in ways not seen before her arrival at camp.  This is faith at work and it is a beautiful thing!
It would be my assumption that most pastoral leaders hope their weekly religious services provide a time to examine how we can do better in our world and take the time between services to apply what all have learned.  Camp provides our campers with a community laboratory to practice what our faith teaches us. And in doing this, we all learn to make the world a better place for all.
Thanks for reading and have a great week!