Google Discovers What Camps Known For Years!
When it comes to higher education, the emphasis du jour has been for aspiring high school students to seek advancement in the worlds of STEM – science, technology, engineering, and math. And many major tech corporations have been pressing for their employment pools to be heavily laden with STEM immersed candidates under the assumption that having the best STEM skilled employees will yield the best performance and efficiency for their companies. Seems logical!
Google operated on this premise as well and I think we would all agree they have been doing quite well!  But Google – known for its vision and creativity (and perhaps a bit of skepticism!) – wanted to make sure they were achieving all they could achieve.  In her book, The New Education: How to Revolutionize the University to Prepare Students for a World in Flux, 2017, www.basicbooks.com, Cathy N. Davidson describes Google's Project Oxygen where the company examined its top performing employees to see what attributes they have that lead to top level productivity. The results of their 2013 study were stunning in that it essentially found that "among the eight most important qualities of Google's top employees, STEM expertise comes in dead last".
Now we bring this to your attention here, not to blast the STEM emphasis nor to denigrate the value of STEM. Science, technology, engineering and math play a critical role in nearly everything we do. And we need people to pursue and excel in STEM related careers – especially women!  So STEM has a secure and important mantle in the education of our children and young adults. However, it is important to go further into Google's analysis to see what those of us in the camping profession have known for years!
"The seven top characteristics of success at Google are all soft skills."
Dr. Davidson continues to flesh out the studies results in sharing "The seven top characteristics of success at Google are all soft skills: being a good coach; communicating and listening well; possessing insights into others (including others different values and points of view); having empathy toward and being supportive of one's colleagues; being a good critical thinker and problem solver; and being able to make connections across complex ideas."
So it is not an 'either/or' scenario (STEM or soft skills). Rather it is the partnering of these set of skills that results in exceptional achievement.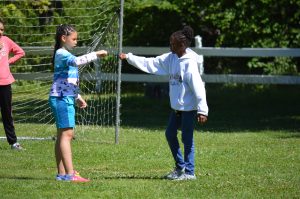 Until recently, soft skills have not been given much attention by many teachers in traditional educational settings (i.e. schools). But educators in the camping profession – yes, we are educators, but in non-traditional settings! – have focused on many of the skills highlighted in Google's study at camps throughout the country.
When a camper arrives at WeHaKee Camp for Girls, they learn to become independent. More specifically, they learn to listen better so that they can communicate more effectively. They learn to understand, appreciate and more importantly embrace those different from them. They learn to empathize or see another's perspective to be more sensitive to that person's needs. And they learn to think critically to solve problems and conflicts they face in the camp community setting. 
The best thing is that these critical soft skills are transferable – campers learn to how to apply these camp skills to their worlds at home to become better contributors to their communities at home, in school and in their neighborhoods. 
Thank you Google, Dr. Davidson and others for pointing what should be obvious. Soft skills are necessary for success, achievement and fulfillment in nearly every field of endeavor.  We would just like to add, that the camp experience is the ultimate soft skill training arena. And the best part, it's a whole lot of fun!
Thanks for joining us and have a great week!