Sunday Snippet: Growing By Mistake!
'Come to Camp, Make Mistakes' does not seem to be much of a compelling tagline to motivate families to send their daughters to WeHaKee.  Yet, it is through mistakes that campers experience some of the most profound growth.  In a pop culture that advocates perfection in all we do – in what we wear, what we say, what we eat, where we go, and how we act – mistakes are often seen as blemishes, as setbacks to us becoming better individuals.
But nothing could be farther from the truth.  Psychologists often point out that an individual experiences balance when all things are congruent, or aligned, in agreement.  However, when incongruence is experienced it is a natural tendency to seek out means to eliminate the incongruences.  Incongruence makes us feel uncomfortable, so we look for ways to achieve comfort.  Sort of like a stream seeking its way to the ocean – as it flows smoothly it continues in a seemingly straight line, but when it encounters barriers, it chooses to go around or overflow the barrier until it can continue on its gravitational path to the sea.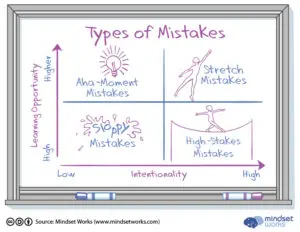 Okay, back to campers and the benefits of mistakes!  In an article first posted in the MindSet Works' Blog and later in Mind/Shift, contributor, Eduardo Briceño explores four types of mistakes that contribute to positive human development (Mistakes Are Not All Created Equal, MindSetWorks.com, May 1, 2018):
Stretch Mistakes
Stretch mistakes happen when we're working to expand our current abilities. We're not trying to make these mistakes in that we're not trying to do something incorrectly, but instead, we're trying to do something that is beyond what we already can do without help, so we're bound to make some errors.
Stretch mistakes are positive. If we never made stretch mistakes, it would mean that we never truly challenged ourselves to learn new knowledge or skills.
Aha-Moment Mistakes
Another positive type of mistake, but one that is harder to strive or plan for, is the aha-moment mistake. This happens when we achieve what we intend to do, but then realize that it was a mistake to do so because of some knowledge we lacked which is now becoming apparent. There are lots of examples of this, such as:
● When we find there is more nuance than we realized: e.g. in our painting, we color a sun near the horizon as yellow, and later notice that the sun does not always look yellow.
● When we make incorrect assumptions: e.g. we try to help someone else, thinking that help is always welcome, but we find out that the person did not want help at that moment.
● When we misremember: e.g. we call a friend for their birthday on the right date, but the wrong month.
Sloppy Mistakes
Sloppy mistakes happen when we're doing something we already know how to do, but we do it incorrectly because we lose concentration. We all make sloppy mistakes occasionally because we're human. However, when we make too many of these mistakes, especially on a task that we intend to focus on at the time, it signals an opportunity to enhance our focus, processes, environment, or habits.
Sometimes sloppy mistakes can be turned into aha moments. If we make a mistake because we're not focused on the task at hand, or we're too tired, or something distracted us, upon reflection we can gain aha-moments on how to improve, such as realizing we're better at certain tasks after a good night's sleep, or that if we silence our gadgets or close our doors we can focus better.
High-Stakes Mistakes
Sometimes we don't want to make a mistake because it would be catastrophic. For example, in potentially dangerous situations we want to be safe. A big mistake from the person in charge of security in a nuclear power plant could lead to a nuclear disaster. We don't want a school bus driver to take a risk going too fast making a turn, or a student in that bus to blindfold the bus driver. 
Aside from life-threatening situations, we can sometimes consider performance situations to be high-stakes. For example, if going to a prestigious college is important to someone, taking the SAT could be a high-stakes event because the performance in that assessment has important ramifications. Or if a sports team has trained for years, working very hard to maximize growth, a championship final can be considered a high-stakes event. We can try something that is beyond what we already know and see how it works, as long as we realize that it may impact our performance (positively or negatively). And of course, we can always learn from these performance events by afterwards reflecting and discussing how things went, what we could do differently next time, and how we could adjust our practice.
"Mistakes are not all created equal, and they are not always desirable. In addition, learning from mistakes is not all automatic. In order to learn from them the most we need to reflect on our errors and extract lessons from them." (Eduardo Briceño, Mistakes Are Not All Created Equal, MindSetWorks.com, May 2018)
Mistakes themselves do not create growth, but it is through reflective evaluation after making a mistake that one gains positive development. At Camp WeHaKee, that is where our staff come in!  Through thoughtful guidance and positive, accepting support campers are able to make mistakes and move forward in growing and developing.  And they quickly discover how much fun getting better can be!
Thanks for reading and have a great week everyone!