Sunday Snippet: Leadership Matters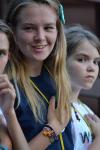 Summer after summer, WeHaKee strives to offer the best summer camp experience to girls ages 7-17. When you think about it, that's a huge age group. It's astounding to have so many different girls at camp and keep them all engaged. A long-time camper and now staff member remarked to me that one of the most meaningful things about her camp experience as one of the younger girls was the willingness of the older girls to befriend and help the younger campers. She said that the environment at WeHaKee encouraged the older girls to role model for and spend time with the younger girls, and she remembers some of those moments to this day.
If you are of high school age (or know someone of that age) you know how fun it can be to do teach your favorite childhood activities to younger children, perhaps your siblings or younger relatives. It reminds you of how fun it was and is to let loose and have good clean fun! Most of the activities you loved doing as a child you still do! You know I'm right… I myself still enjoy a rousing game of Ships Across the Ocean or a chance to hit the soccer field. These activities stick with us because they still challenge us, but also because we can begin to share them with others.
The WeHaKee Leadership Academy gives young women of high school age the chance to continue having the fun camp summers they might have had in the past, with the chance to pass that experience on to younger girls! Our CITs (Counselors-in-Training) go through 2 levels of workshops and skill-building activities while participating in their favorite camp activities and assisting in others for a two-week session. The 3rd year of the Leadership Academy are the JCs (Junior Counselors) who spend 4 weeks on camp getting staff-oriented training and mentorship. They will assist in both cabin life and activity areas throughout this time. Both JCs and CITs will be called upon to assist, lead, and be role models for all the younger campers, alongside our staff.
I don't know about you, but if I knew my fun experiences and hard work combined could lead to a camper remembering me 10 years down the road, I would jump at it.
For more information about the Leadership Academy, visit the webpage HERE.