Sunday Snippet: The Memories We Share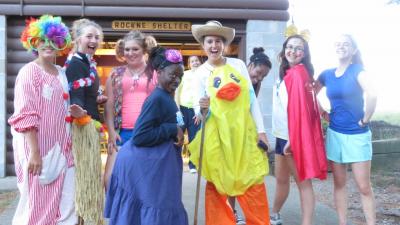 This week on Sunday Snippet we have some more amazing words brought to us by a member of the WeHaKee Leadership Academy. These girls work hard on their leadership skills and provide valuable fun, skills, and spirit to our camp community. Around our Council Fire each session, some of them shared what camp provides them with in their daily lives. Though coming for your first time might seem like a lot, turns out it'll mainly just be a lot of fun, memories, and friendships.
"The main reason why I come back to camp WeHaKee is you guys. This community. I've never felt safer or more welcomed than in this camp. The first time I heard about Camp WeHaKee was from my grandpa. My mom and my aunt both went to Camp WeHaKee as campers and then turned into counselors. Because of the memories they shared with my family, soon enough in 5th grade my grandpa was saying, "Who's going to Camp WeHaKee?!?" As scared as I was, I was already getting out of my car and stepping onto the bus to camp. I was freaking out—what if no one talks to me? What if my cabin doesn't like me? What if I can't be myself? But already two counselors gave my huge hugs!

Feeling more confident, I sat next to a group of girls. They all welcomed me and made me feel excited for camp—a new feeling—excitement! The bus ride flew by and as we pulled up to the Camp WeHaKee sign I was overwhelming by the new environment. This whole new world… and all the returning girls were singing "Heydee Hi Heydee Ho!" as we got closer and closer to the hill. My stomach was everywhere, I felt both nervous and excited at the same time and I didn't know how to handle myself. A crowd was gathering around the bus—cheering for us! What did we do?! Then I stepped off and hugs were everywhere. The nervous feelings never returned.

Camp WeHaKee turned into my home away from home! The hand games by the older girls were the coolest thing I'd ever seen… I had to learn them right away. The songs—sung so loud they were easy to join in on! The food, activities, reflections, counselors, special events, cabin nights, but most of all the memories from each year of camp… It keeps getting better every year. Camp WeHaKee is a special place in my heart, that will be there forever. This year I have the joy of being a Counselor-in-Training 2 with my best friends, which will help me in my future. The talents I've gained, the smiles I've shared, and the laughter that never ends, and the friends I've made are all thanks to my home Camp WeHaKee!

The reason why I am the person I am today is because of the memories I've made and the people I've met here at Camp WeHaKee."
We'd like to thank our Leadership Academy once again for sharing what makes WeHaKee special to them. As we close our summer season, their words will carry us through to next year.
Can't wait to see you at camp!