Sunday Snippet: Our Fantastic Assistant Director!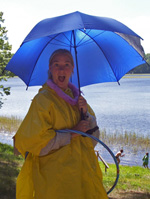 Thanks to all who joined us for our WeHaKee Reunions in Chicago last weekend as well as St. Louis just yesterday! It was great to see everyone and share camp stories while having some good fun together. For those of you who were not able to attend, we are using our Sunday Snippets the next few weeks to introduce (or re-introduce) some of our amazing staff who will be returning to WeHaKee this summer. Last week we visited with our directors and this week we take some time with our effervescent Assistant Director, Kathy Stauble!
Known for her incredible 5 minute costumes, she's the queen of special event decorating and is masterful on water-skis and the wakeboard, but there is so much more to Kathy Stauble, our Assistant Director at WeHaKee Camp for Girls. Some may know that in the off-season (also known as the school year!), she is an exceptional middle school math teacher in the Bloomington, Minnesota schools. And her creativity doesn't stop at the middle school door ~ ask her about her 'Function Hats' and you'll get the idea!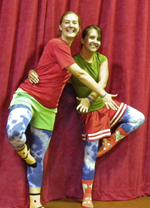 After graduating from Gustavus Adolphus College in Minnesota, Kathy spent a year teaching in Copan Ruinas, Honduras where she taught math, English, art, history and even directed a Shakespeare in the Park production of The Twelfth Night! She has travelled throughout the world including to the countries of Mexico, Guatemala, Belize, Italy, Austria and Bangladesh. In addition, she has done winter camping in the Boundary Waters Canoe Area in northern Minnesota where she experienced a night in an igloo!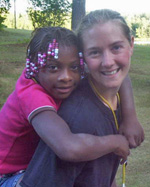 Kathy has been a valued member of the WeHaKee team since returning from Honduras, joining us for the summer of 2006. Her role as Assistant Director is all-encompassing and includes mentoring and guiding the counseling and program staff, scheduling valley time & lifeguarding assignments, providing staff training in team-building & leadership development, training & supervising the powerboat and water-ski staff, along with assisting Maggie in scheduling camper activities, creating positive & supportive cabin groups, assigning staff to activities for maximum effectiveness as well as being the camp problem-solver extraordinaire! But more importantly, the girls know her as fun, energetic, enthusiastic, a little crazy and yet exceptionally loving, compassionate, a great listener and full of hugs when a camper (or staff member!) really needs one!
Back for her seventh year at WeHaKee, Kathy's looking forward to seeing y'all here this summer! Have a great week everyone and join us next week to find out who is really pumped to be the WeHaKee Leadership Academy coordinator this summer!