Sunday Snippet: Their Own Words, Session 3
During our Council Fire this past week, we again had our WeHaKee Leadership Academy campers take a moment to share how WeHaKee has impacted their lives and how they hope to make a difference in their communities because of that influence. Here is what they had to share with us:
"There I was, 6:45 sitting in the car, on my way to Winter, Wisconsin, to camp for the first time. I was terrified, excited, anxious, annoyed, tired, didn't want to go…   I was a mix of emotions.   
When I got to WeHaKee, I was greeted by my cabin mates. Over the next two weeks, I found out I was surrounded by people who generally cared about me, who accepted me for me, who didn't judge me.
Camp is like a home away from home. My cabin mates are like a second family. Camp is like a break from reality!"
* * * * * * *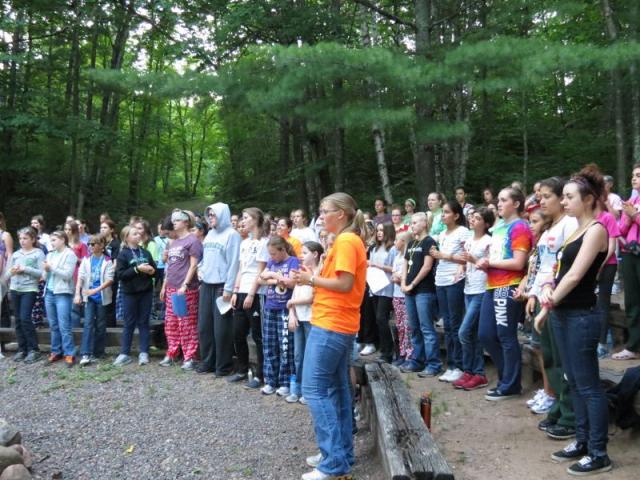 "My camp story wasn't always as happy as it is now. For most of my childhood, I never felt at home anywhere.   When I first came to camp at age 8, I saw camp not so much as a fun summer activity, but more as an escape.   I had a good time learning new things and even though I was still a bit of an outsider, I made friends for the first time ever.  
After that first year, I begged my parents to let me go back again. I always used to believe that that was my reasoning for going back to camp each year – If I couldn't really have a home in real life, at least I could get a small break while at camp.
Now as a high school junior, I've realized that that reasoning isn't true anymore.   Somewhere in the nine years, I've been going here, this camp has changed in my mind.   It's no longer an escape from my problems. Camp WeHaKee is actually the home I thought I could have."
* * * * * * *
"The first year I came to Camp WeHaKee, I was anxious, excited, nervous, and didn't really know what to expect. When I got here I was welcomed with welcoming hugs and smiles.   Within a few days, I felt at home. Everyone was accepting and understanding. I made incredible friends that I would never forget.
The next year, I came back again. I knew what to expect and I was so excited. That year I made even stronger friendships that I had the year before. I became very close with my cabin mates and counselors.   The activities were so fun and I learned to love things I never thought I would and accomplish things I never thought I could.  Although leaving that year was so sad, it was worth coming back this year and seeing those same people that I had said goodbye to the year before.
This year I am enjoying myself more than ever! Camp WeHaKee is truly a second home and all of you are my second family.   I feel like I can be myself when I'm here.   I will never forget all of the memories I had and the friends I have made!"
* * * * * * *
"I made camp my home when I was seven, but I never fully understood how much camp influences me and how lost I would be without all of the amazing people I have met. Reality can be so cruel and I feel incredibly blessed to have WeHaKee as an escape. Past & present campers and counselors have shown me 'life is about the people you meet and the things you create with them'. And I have created so many unforgettable memories and have met so many life-changing friends ~ Even some I call my best friends. You all not only make my summers, but you also make me a better person. No matter if you're quiet or loud, artsy or athletic, young or old, near or far, people here will love and be there for you. For that, I can't thank you enough!"
* * * * * * *
"When I came for the first time last year, I was so nervous, but hopeful, too. I was looking for an escape and new friends. I got everything I could have wished for. All of this past school year WeHaKee would pop into my head. Other people around me wouldn't understand why I miss camp so much. It's because places like this are so rare. Finally I'm back again, where I feel safe, happy, and I belong. Here people accept and enjoy who I really am – there's no need to put up a front!"