Sunday Snippet: In Their Own Words
It is always wonderful to hear campers share in their very own words, regarding how the WeHaKee experience has influenced their lives.   Nearly every time, the words could not be scripted better than the way they say it.   Our Junior Counselors recently did just that at our Council Fire, stating why camp has been such an important part of their lives.   Here is what they said:
"I first found out about Camp WeHaKee from my great Aunt, one of the Dominican Sisters from the Sinsinawa Mound.   For the past two summers, I have been coming to WeHaKee for Mother/Daughter/Auntie Camp with my Grandma, Mom, Aunts, and cousins.   Because of this, when I think of WeHaKee I think 'Family'.   And even though my family is not here with me now, I still feel like I'm at home and that is what I love about WeHaKee!"
*   *   *   *   *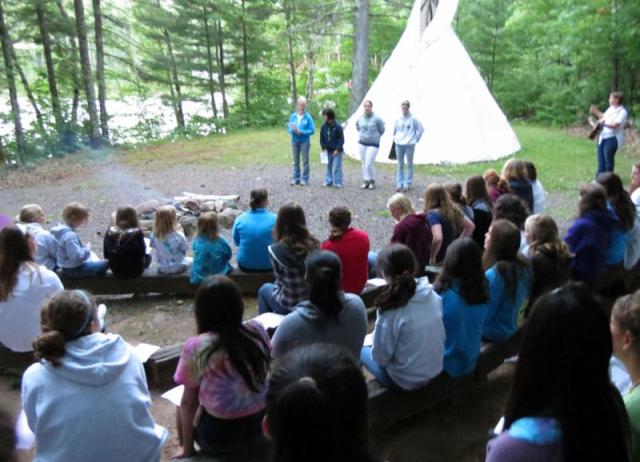 "Over the past eight years, every summer memory I have WeHaKee is a part of it.   WeHaKee is a special place for me.   It's a place where no one cares if you have designer clothes or if you have the new and latest technology.   It's a place where you can be YOU.   In fact, that is what makes WeHaKee special! 
WeHaKee is a community of girls that is built from girls of every walk of life and that is one of the things I love about WeHaKee.   I love how all of my friends here make me laugh and sometimes so hard it makes me fall to the ground!   WeHaKee has taught me a lot over the years.   I learned to sail here and now I have the opportunity to teach other girls how to sail in my role as a Junior Counselor.
Camp WeHaKee means the world to me and it has helped mold me in the woman I am today. All of my WeHaKee memories will remain in my heart forever!"
*   *   *   *   *
"Love, Family, Relationship, Inspiration – These four words are how I describe WeHaKee.   Here I can be myself.   Here I can make new friends!   When I go home, people ask me what I did this summer and I say 'Oh, I went to camp!'.  Everyone automatically thinks it was band camp or camp camp.   To me, it is much more!  
WeHaKee is special to me – WeHaKee is where I love to be!   I count the days 'till I return!   I love it here and hope all of you love and cherish the experience you get here as much as I do.   And cherish the friends and relationships you gain every day.   Because when I'm sad or down, I think of all of you and my heart is home again!"