Sunday Snippet: 5 Things Our Staff Has Learned That You Want to Know
Top 5 or 10 lists are a big hit right now, I thought there was no harm in jumping on the bandwagon. It seems like we can't stop saying it, but our first session of campers arrives in a little more than a day, and feeling excited and ready is on everyone's mind here at WeHaKee. So here it is, a list of 5 Things Our Staff Has Learned That You Want to Know. 
But first, a little context. This wonderful article from the American Camp Association Camp Magazine was shared with us this week. It is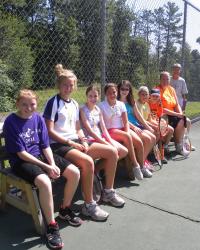 entitled "What Parents Want to Know that Camp Counselors Should Know" and we were pretty proud to be able to answer the call of the parental need! Here's what we found YOU needed to know that WE have learned as staff!
1. Staff Ratios: Every program area filled out lesson plans, emergency procedures, and, yes, details right down to appropriate supervision ratios! Over 35 staff members work directly with the girls and are all hired with careful consideration of their skills and personalities. Having been hired and seen the work that goes into the other side of it, I feel really honored to be among the WeHaKee staff, and excited to work with the girls!
2. Daily camp schedule: The staff live the same schedule as campers do during their own 2 weeks of training. It works well for us, because now our body clocks are set to camp time, and the flow of the day-to-day is second nature. All the more attention and focus to put into fostering new skills and relationships in the campers!
3. Camper Health: Staff have the same first health resource as the campers: the Health Center, or "The Band-Aid," as it's sometimes called. A registered nurse or physician staffs the health center at all points during the summer. A lot of our volunteer health care providers have come back year after year, and really know the camp atmosphere. 
4. Food: Ask any of our counselors about the food, because they will eat it all summer, and then go home and miss it terribly. For some strange reason, even my best attempts to replicate some camp favorites don't taste the same without the camp atmosphere. Our kitchen staff provide accommodations for food sensetivities of all kinds, and your camper's counselor will know how to conduct meal time in a way that makes it relaxing and fun.
5. Communicating with camp: our staff will do their best to provide assistance to girls writing home, and can let them know where to put outgoing mail, receive mail from you, and will check everyday to see if any larger packages have arrived for them. We can also print out emails from you to put in their mailboxes, and international campers can write letters that we will scan and send electronically. Learning about the delicate balance between unplugging from the world completely and staying in touch with family was a really important part of our training.
We want our staff to know all of these things so that you know all of these things! Staff will answer your questions, or know the appropriate person to find to make sure you have peace of mind about your independent young woman going off to camp!
Again, we as WeHaKee staff are so excited to meet each and every camper. We are honored to have the very important job of taking care of your daughters and relatives as they experience WeHaKee. We're mighty glad they're here!
"What Parents Want to Know that Camp Counselors Should Know" was written by Karla A. Henderson, Kelly McFadden, M. Deborah Bialeschki