Sunday Snippet: Two Days 'til Campers Arrive!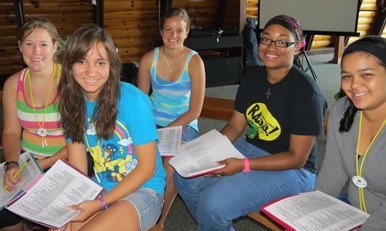 Our 2012 WeHaKee Staff are taking a couple of well earned days of relaxation after 11 days of intensive & successful training. They will be returning on Monday to complete the final preparations for the arrival of our first group of campers on Tuesday! The excitement and anticipation is contagious as door decorations are being hung, cabins are being cleaned, lesson plans are being prepared, camp songs are being practiced and shared and the staff are settling into their new cabins.
Three seasons of planning, travelling, recruiting, building, fixing, cleaning, repairing and ordering is coming to fruition on Tuesday, June 19th with the arrival of our first group of WeHaKee girls for the 2012 summer. Girls will be travelling from around the country and around the world to attend WeHaKee Camp for Girls during Session One. With the great staff team that we have assembled and ready to go, it promises to be an exceptional and amazingly fun summer!
Along with our Sunday Snippets, we will be adding some new features to our WeHaKee World blog this summer. Perhaps you have already seen the first installment of 'Fridays with Franky' ~ a dog's eye view of life at Camp WeHaKee. Frank will be joining us each Friday with a brief visit to to some of the wonderful places in and around camp. As this summer is our 90th summer and next summer will be our 90th Anniversary Summer, we thought we would compare and contrast camp now and camp back then through a feature called '90 Years of WeHaKee: That Was Then…This Is Now!'. We will dig up some vitage photos of WeHaKee past and compare them to similar things at WeHaKee now! Visit us every Wednesday for that.
In the meantime, stay connected with all things WeHaKee through our Facebook page and Twitter page for periodic pics and updates. Thanks for joining us and have a great summer everyone!