Sunday Snippet: Unite Against Bullying!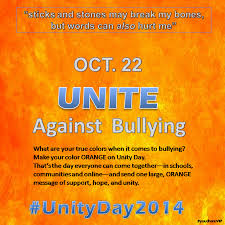 October is National Bullying Prevention Month and to help emphasize the anitbullying messages, this coming Wednesday is Unity Day 2014. Schools and youth organizations throughout the country will be encouraging their participants and staff to wear orange to bring attention to the needs of this critical issue.
Having two daughters and directing a girls resident camp, we are highly aware of the perils of growing up as a girl.  Adolescence in particular can be exceptionally trecherous for girls to navigate successfully .  It is highly likely that a girl will experience bullying at some or several points during her adolescent years in the form of physical bullying or hazing, cyberbullying, verbal bullying, or indirect bullying and social alienation.  And to make matters more complicated, girls rarely tell their parents or loved ones when they are being bullied.
Being a highly covert behavior, bullying is difficult to reduce and eliminate in schools, neighborhoods and other setting where children and youth gather. As parents or youth development professionals, it can become overwhelming when trying to find effective strategies to deal with bullying.  It is important to remember though, that we need to focus on both sides of the bullying equation – the bullied and the bully.
Although bullying has been prevalent for generations, recent violent acts have pushed bullying into the spotlight.  As a result, resources are emerging to help those being bullied as well as strategies to help bullies find more positive and effective ways to channel their emotions.  The U.S. Department of Health & Human Services, through their GirlsHealth.gov website, offers some great information to deal with both the bullied child as well as the child bully. 
According to GirlsHelath.gov, girls may have lots of reasons to keep quiet about being bullied. They may feel embarrassed, afraid, or even at fault. But if you suspect bullying, you can look for signs, such as the following:
Signs of Bullying:
– Frequent headaches, stomachaches, or feeling sick
– Having trouble sleeping or frequent bad dreams
– Changes in eating habits or coming home hungry because of skipping lunch
– Suddenly losing interest in friends
– Not wanting to go to school or declining grades
– Seeming sad, moody, angry, or anxious after school
– Having damaged or missing items, like clothes or jewelry
– Unexplained injuries
– Talking about hurting herself or suicide
Signs That a Girl is Bullying Others:
– Having a strong need to control others and to feel powerful
– Acting intolerant of differences
– Being overly concerned about being popular
– Getting into physical or verbal fights
– Getting sent to the principal's office or detention a lot
– Having extra money or new belongings that cannot be explained
– Blaming others for her problems
– Having friends who bully
– Feeling a strong need to win or be the best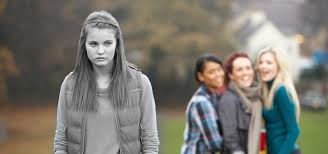 GirlsHealth.gov continues with ways you can help.
What to Do If a Girl is Being Bullied: 
– Get the facts. Find out what has been happening and for how long. Start keeping a record of each incident, including the time and place. This can be helpful when working with a school.
– Teach a girl ways to stand up to bullies. Practice what she can say if she's bullied. Look together at tips on dealing with bullying from girlshealth.gov.
– Tell her to report bullying. She should go to a trusted adult right away when bullying happens. Emphasize that reporting is not wrong. Offer to contact her school for her.
– Encourage her to find ways to make her life better. Suggest that she join a club or try to make new friends. Work on ways she can feel confident and strong.
– Offer emotional support. Make sure she knows being bullied is not her fault. Praise her for being brave enough to speak up. Tell her about your experiences if you ever were bullied.
– Reach out for help. Your school's guidance counselor or nurse may be able to help a child deal with the stress of being bullied. You can also find mental health services near you, sometimes at a reduced cost. You can also find centers that offer services if you don't have insurance.
How to Help a Girl Stop Bullying Others:
– Talk with your child. If you suspect bullying, stay calm. Give your girl a chance to explain her side of the story.
Make clear that bullying is not acceptable. Talk about how bullying affects the person who is bullied. You can look together at ideas for how to stop bullying others.
– Tell her what will happen if she bullies. Set rules, and enforce them fairly and consistently. Do not use physical discipline. Try taking away certain privileges instead.
– Teach and reward better behavior. Talk about ways a girl can meet her needs or express anger without hurting others. Praise any progress. Encourage a girl to build her strengths and talents through positive activities, such as a school club.
– Get help. Ask your school how you can work together on any problems. Talking with a school counselor or other health professional also can help.
Thank you for joining us today.  Please do not hesitate to share this information with friends or families that may be struggling with a bullying issue. Together we CAN make a difference.  Have a great week everyone!