Sunday Snippet: Visiting The Values Of WeHakee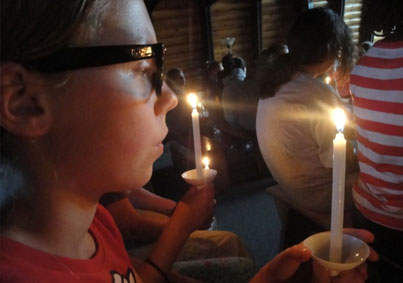 Over the course of the next few weeks, we would like to take some time to explore the values and foundation of WeHaKee Camp for Girls – our Mission, Vision, and Goals.  Please join us to see how we embrace and put these into practice to help ensure each girl has a chance to grow to her potential at camp each summer.
Many organizations have a mission statement that may guide them as they make decisions impacting how that organization goes about doing its day to day business.  Others may have an implied vision that helps set the criteria for success. And nearly all have a set of goals, acknowledged or not, that sets the groundwork for the culture that permeates the organization's activities.  
Over a decade ago, the WeHaKee Board and Directors decided to explore the implicit mission, vision, and values that has been the driving force the camp for over four generations.  They wanted to find a way to articulate what it is that has lead to the camp's success year after year since 1923. Through contemplations, presentations, discussions, and even respectful disagreements they crafted a set of statements that they ultimately agreed captured the essence of the WeHaKee experience. Although they were written in 2006, the Mission, Vision, and Values of Camp WeHaKee simply put into words what has been integrated into life at our camp for decades.
THE MISSION OF WEHAKEE CAMP FOR GIRLS
Founded in the tradition of the Sinsinawa Dominican Sisters,
WeHaKee Camp for Girls is a place of fun and play
where a girl's journey strengthens her relationship
with God, self, others and nature.
THE VISION OF WEHAKEE CAMP FOR GIRLS
A WeHaKee girl is inspired to become a woman whose life embraces
the values of community, compassion, justice, truth and peace.
THE VALUES OF WEHAKEE CAMP FOR GIRLS
COMMUNITY: Relationships built on respect   
COMPASSION: Relationships that care for each individual   
JUSTICE: Relationships that recognize the dignity and uniqueness in all God's creatures   
TRUTH: Relationships that embrace honesty   
PEACE: Relationships that create an environment Blessed by God   
Cumulatively and surprisingly, this all leads to our core belief (which also happens to be our tagline!):
AT THE HEART OF WEHAKEE IS RELATIONSHIP!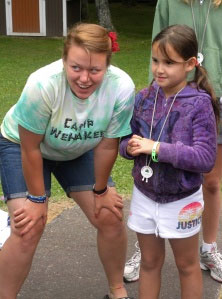 At WeHaKee, our Mission, Vision, and Values are not simply relegated to obscurity in our Annual Report or other mundane documentation.   It is a living and breathing set of guiding principles that are truly what WeHaKee is all about.  All that we do is filtered through these beliefs to ensure we are providing the unique and powerful (and not to mentions FUN) experience that is WeHaKee Camp for Girls!
Thank you for taking the time to join us today and have a great week!