Sunday Snippet: WeHaKee is for Smart Girls!
Wait a second… isn't this a little exclusive for WeHaKee Camp for Girls? I thought 'All Are Welcome' at WeHaKee? No worries! WeHaKee is still the welcoming and inclusive community it has always been. Take a moment to enjoy our Sunday Snippet for this week and see what we are really talking about:
Girls, since the day of their birth, are bombarded by remarks from well-meaning friends and relatives about their appearance. "What a cute baby", "Isn't she adorable in that dress?", "What a lovely smile she has", "I just love your hair", and on it goes. Most of us are conditioned to respond in this way when we see and meet a baby, toddler or other young girl. These 'compliments' seem like the right thing to say, yet they can send a message that appearance is the most important quality a girl should have. And when a girl is fed a steady stream of these seemingly harmless and well-intentioned comments, it becomes nearly impossible for her to avoid quickly and deeply internalizing these messages about her looks.
Most of us make these comments innately and without a second thought. But it is important we recognize the power of our words and work to change how we respond to girls and young women. Lisa Bloom, author of Think: Straight Talk for Women to Stay Smart in a Dumbed Down World', makes an excellent case for this in a recent Huffington Post blog entry entitled; How to Talk to Little Girls. She herself finds the urge to comment on a young girl's appearance nearly irresistible, but intently chooses to focus on the girl's interest in books and reading. She also discusses the impact of our 'innocent' comments and their correlation in the large percentages of young and adult women who perceive themselves as fat or who would be seen as hot rather than smart.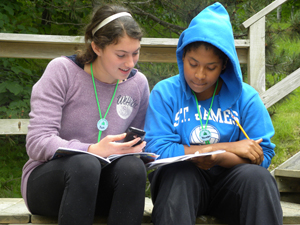 An experience at WeHaKee goes deep in countering this negative, body-image-focused culture by providing girls with opportunities to explore their gifts and talents deep within them. Shortly after arriving at Camp WeHaKee, it is remarkable how the make-up, designer label clothes and neatly styled hair quickly give way to t-shirts, tank tops, shorts, flip-flops and pony tails. Getting comfortable and being ready to do things is what becomes important. A whole level of pressure is released allowing each girl to freely & willingly explore and discover all that she truly has to offer herself and others!
Of course, all of our daughters, granddaughters and nieces are beautiful, but more importantly they are smart and talented! It is our responsibility to help them discover and embrace their intelligence and skills. We need talented and smart women to make this world a better place. At WeHaKee, we will give each of them the chance to see what they have to offer. And we will help them gain the independence to take what they have learned at WeHaKee and use it confidently in their greater communities despite the pressures to be just another pretty face!
Smart girls rule! Have a good week!