Mission For A Better World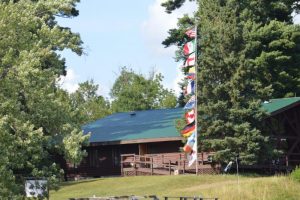 Regardless of varied opinions on the current state of leadership in America, I believe most will agree that the significant uptick in racist and hateful acts is unacceptable in our nation. There is no place for bigotry, hate, racism and prejudice in this country, yet these all remain and are seemingly reenergized by current politics and reinvigorated hate groups. Now more than ever it is critical to embrace and act upon the values cherished at WeHaKee Camp for Girls – the values of Community, Compassion, Justice, Truth and Peace.
All are welcome at WeHaKee and have been since 1923.  The Sisters of the Dominicans of Sinsinawa have been actively intentional and insistent that WeHaKee be open to all girls, regardless of race, color, religion, sexual orientation, national origin, or disability. And beyond eligibility, WeHaKee has always embraced a culture of acceptance and understanding.  Although we believe our commonalities far outweigh our differences, it is by embracing those differences that we learn how beautiful the uniqueness in each individual truly is.
Let's take a closer look at the mission and values of WeHaKee:
THE MISSION OF WEHAKEE CAMP FOR GIRLS
Founded in the tradition of the Sinsinawa Dominican Sisters, WeHaKee Camp for Girls
is a place of fun and play where a girl's journey
strengthens her relationship with God, self, others and nature.
THE CORE VALUES OF WEHAKEE CAMP FOR GIRLS
COMMUNITY
Relationships built on respect
 
COMPASSION
Relationships that care for each individual
 
JUSTICE
Relationships that recognize the dignity and uniqueness in all God's creatures
 
TRUTH
Relationships that embrace honesty
 
PEACE
Relationships that create an environment blessed by God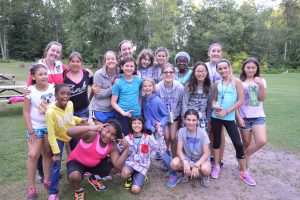 The key word in our mission and among each of our stated values is Relationship. It is through relationships that we can and will overcome discrimination, racism, exclusion, prejudice and ultimately hatred. It is profoundly more difficult to hate and oppress someone you do not know. 
Girls live in community with one another at Camp WeHaKee. Is it a blissful and contentious free environment? Not so much, as when individuals come together they bring multiple perspectives and world views that at times can conflict.  But we work to create a culture where disagreements are dealt with openly, guided by our sensitive and compassionate staff. The key is to help our campers learn to see more than a single angle on a particular issue. This can take some time and considerable work. But, all relationships take work to survive and thrive and the camp environment provides a supportive and nurturing atmosphere in which campers and staff alike can strive to build positive and lifelong relationships.
We often tell our campers that camp IS the real world as it is a place of acceptance, where each girl can feel comfortable to be who she really is.  We then encourage them to embrace this real world camp culture and take it with them when they depart for their home and school communities.  Even if they are only able to influence their other worlds ever so slightly, that is a good and noble thing. Clearly now this is more important than ever.
This summer all of us at Camp WeHaKee pledge to embrace our values even more and work to help each and every camper embrace them as well with the hopes that they will go out into the world and influence it in even more positive and remarkable ways.  We hope to make the world just a little bit more like camp… where all are welcome!  Thanks for reading and have a great week everyone!