Sunday Snippet: Welcome Back Alex and Lynn!
This is our final week of featuring the amazing staff who have chosen to return for yet another summer at WeHaKee! Starting next week it's on to the exciting introductions of our new WeHaKee staff team members! This week we reacquaint our selves with Alex and Lynn. They both can't wait for another summer to hang out with our fantastic campers!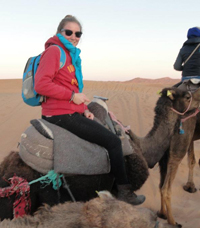 With a quiet compassion, Alex Buckley arrived last summer ready to share her gifts with the campers of WeHaKee. She's a proud Aussie who grew up with 3 brothers and 2 sisters in the small country town of Rockhampton, on the coast of Queensland, Australia. "Coming from a big family, I love to go to the beach, kick a footy or just chill out with them on the weekends or whenever we're together!"
Alex enjoys watching or playing pretty much all sports, but most enjoys participating in field hockey, touch football and indoor cricket. "The top two teams I barrack for in Rugby League are the South Sydney Rabitohs and the Brisbane Broncos!"
Since departing WeHaKee last summer, Alex has been travelling the world and working as needed. So far, she has been to 9 countries and plans to add a number more after departing WeHaKee this summer. "If I could travel the world forever, I would!"
Some random facts about Alex – she has recently started playing the ukulele, some think she's a bit of a hippie, she's ridden a camel into the Sahara and has climbed the tallest sand dune in Morocco, and her favorite foods include spag bol and any kind of stir-fry! "I'm keen to get back to camp and have another awesome summer!"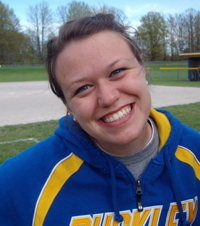 Growing up in Buckley, Michigan, Lynn Davis, loved sports in high school including soccer, softball and volleyball. "I also really loved the program I was in for two years called Teacher Academy, where I was able to try out all different classrooms, which really helped when I got to college!".
Lynn currently attends Aquinas College in Grand Rapids, MI where she is a junior majoring in Learning Disabilities and Elementary Education certification. In the spring, she "loves spending time assistant coaching for my old high school softball team. I eventually plan on head coaching one day!".
Having just gotten a new camera, Lynn loves taking photos. And on the random side of things, she has recently developed an obsession for PowerAde, "especially the grape flavor!". You may also enjoy knowing that Lynn's full first name is Gwendolyn and depending on which group she is hanging with, she is know as Gwen, Lynn or affectionately as 'Doh'!
We are thrilled to have Alex back for her second summer and Lynn for her third. The enthusiasm, leadership and random craziness they both bring is going to help make this summer even better than ever! Welcome back to all of the veteran WeHaKee staff. Next week we begin to meet the new faces who will joining our staff team this summer ~ you're going to be amazed! Have a great week everyone!