Sunday Snippet: Welcome Back Ali & Lizzie!
Yes, we continue to feature even more of our remarkable staff who have chosen to return for yet another summer at WeHaKee! We have one more week of saying hello to our returning staff, then it's on to the exciting introductions of our new WeHaKee staff team members!
This week we reacquaint our selves with Ali and Lizzie. They both can't wait for another summer to hang out with our fantastic campers!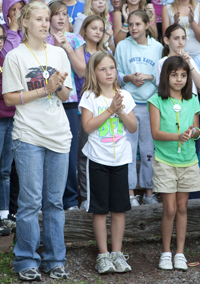 If you were new to WeHaKee last summer, you missed out on having the pleasure of meeting Ali. After having a great year as a counselor in 2010, she was unable to join us last summer at camp. But we're thrilled she is returning! For those of us who had the opportunity to work with her, we can't wait to see her share her energy and compassion in all she is does.
Ali is a senior at Aquinas College in Grand Rapids, Michigan. She is currently a volunteer at St. Thomas Sunday School located next to her campus where she loves singing songs, playing and reading with the younger children. When she is not studying or volunteering, she can usually be found dancing up a storm in her apartment!
Some of Ali's quirky and random thoughts… "I have never colored my hair, but have wondered what it would be like to dye it with Kool Aid. I have never gone snowboarding or skiing, but I think it would be a ton of fun!"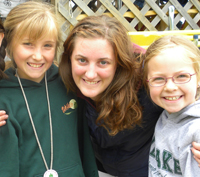 As a freshman at Viterbo University in La Crosse, Wisconsin, Lizzie Stauble is working on a double major in arts administration and stage management. She recently was the assistant stage manager for the production of A Secret Garden and will be the assistant stage manager for the one-act play entitled Line later this month.
Lizzie is going to blend her studies with her camp life as an intern at WeHaKee focusing on the enhancement of camp's theatre and musical productions this summer. We're pretty excited about some of the ideas she has already conjured up – you'll have to come to camp this summer to find out just what she has planned!
Prior to joining the WeHaKee staff team last summer, Lizzie was a camper for four summers where she particularly enjoyed waterskiing and musicals. And yes, her big sister is our Assistant Camp Director, Kathy. And for you campers who have flown to camp by way of the Minneapolis airport, you have likely met her mother, Linda who frequently helps us keep everyone going to where they need to be!
Give a great big WeHaKee welcome to Ali and Lizzie. We're thrilled you're back!