Sunday Snippet: Welcome Back Brittany & Theresa!
We continue to feature two more of our amazing returning staff for another summer at WeHaKee! This week please give a great big welcome back to Brittany & Theresa. We are thrilled and energized that they have chosen to return for another summer and bless the WeHaKee community with their gifts and spirit!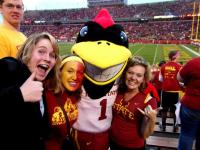 As a student at Iowa State University in Ames, Iowa, Brittany Peterson is majoring in Spanish and secondary education as well as completing a minor in educational computing. But beyond her intellectual endeavors, she loves sports, particulary basketball and soccer as well as being a major Cyclones fan at Iowa State basketball games – "Go Cyclones!!".
As a peer minister at St. Thomas Aquinas Church Brittany leads the Spiritual Life team. "We plan and execute activities for our peers to help us all grow in our relationship with Christ". Shortly after returning from WeHaKee this fall, she will be heading to Cusco, Peru where she will be studying and volunteering with Pro World Peru.
To ensure her silly side is not neglected, Brittany shares, "I own two pairs of toe shoes (they are my favorites!), Harry Potter World is my favorite place on earth, I'm obsessed with chocolate milk, I'm ambidextrous, I still sing the moose-calling song (humba humba) almost everyday and Shark Week is my favorite week of the year!"
Back for her fourth summer at WeHaKee, Theresa Zettel comes to us from Vadnais Heights, Minnesota (a suburb of St. Paul, MN). She is completing her studies and will graduate from the College of St. Benedict (in St. Joseph, MN) in May with an Elementary Education degree with a major emphasis in mathematics and a minor in Hispanic Studies. Just recently, Theresa completed the first portion of her student teaching at the kindergarten level and is currently working in a fifth grade setting. She has also played clarinet in the Wind Ensemble at St. Ben's and continues to enjoy singing in her church choir.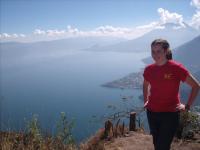 Many of you may have enjoyed working with Theresa on the WeHaKee waterfront where she loves to teach windsurfing, sailing, kayaking and canoeing. She also loves any opportunity to head out camping and cooking over a camp fire!
Theresa shares "Last year I studied abroad in Guatemala from January to May, 2011. I hiked to the top of four volcanoes while in Guatemala, including the highest point in Central America, Volcan Tajumulco. I also went ziplining through the rainforest and took a swimming tour of a water-filled cave". She has also travelled to Mexico and Belize – in Belize she had the chance to kayak and snorkel in the Caribbean.
Welcome back Brittany and Theresa. We are honored to have you at WeHaKee and we can't wait to enjoy watching you share your energy, enthusiasm and silliness with the wonderful campers of WeHaKee!