Sunday Snippet: Welcome Back Corinn & Tammy!
Yes, we continue with yet another feature of our remarkable staff who will be returning to WeHaKee again this summer! Today we feature a couple of musically talented Wisconsinites who had a big impact at WeHaKee during their first year last summer. Let's visit with Corinn and Tammy and see why they are so excited to hang with all of our campers on the shores of Hunter Lake at Camp WeHaKee this summer!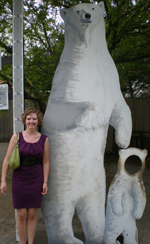 Corinn comes to us from her hometown of Appleton in northeast Wisconsin. She is currently studying at the University of Wisconsin-Stevens Point where she is majoring in music as well as carrying minors in psychology and Spanish. Combining all of this, she hopes to become a music therapist after completing her degree. Her love of coffee and chocolate (preferably both!) might partially explain her endless energy and enthusiasm!
"I love playing piano, singing, dancing, and biking…and I'm really excited to come back to Camp WeHaKee!" You will again see Corinn leading songs throughout camp, working with our WeHaKee Singers and just flashing that warm, infectious smile letting our campers know how much she appreciates having them at camp! And based on this photo, we're expecting Corinn to lead us in many rousing renditions of any camp song that includes a bear!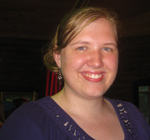 As a music education major, Tammy is studying at Silver Lake College in Manitowoc in eastern Wisconsin on the shores of beautiful Lake Michigan. Her hometown is Marshfield in central Wisconsin. Quite active, she participates in the Concert Choir, Wind Ensemble and Hand Bell Ensemble along with being the student representative on her college's Teacher Education Committee. She is the current president of the Collegiate National Association for Music Educators along with being on the Dean's List.
"I love that college and camp work so well together, I'm constantly learning and growing from all my amazing experiences. I'm so excited to sing the camp songs and graces again, even though I still sing them even when I'm not at camp!" As you can see, Tammy can't wait to return where she'll be working with the WeHaKee Singers and other camp musicians.
The positive energy that Corinn and Tammy generate will again be a great element of our 2012 staff. We were thrilled when they expressed their desire to return and we welcome them back with open arms and ready to sing! Visit with us next week as we re-introduce even more of our returning staff for this coming summer. Have a great weeke everybody!