Sunday Snippet: Welcome Back Jenny & Karen!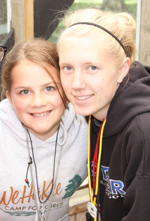 We continue our weekly feature of some of our summer staff who have chosen to return for another amazing summer at WeHaKee – amazing not only because it is WeHaKee, but for the energy, enthusiasm and passion they each bring to making sure our campers have the time of their lives! This week we feature a couple of Minnesota natives who can't wait to get back to the shores of Hunter Lake; Karen and Jenny!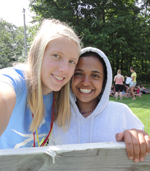 Returning for her fourth summer at WeHaKee – 2 as a camper and her second as a counselor – Jenny comes to us from the Mississippi river town of Wabasha, Minnesota (the setting for the 'Grumpy Old Men' movies). She is completing her freshman year at the College of St. Benedict in St. Joseph, MN where she is studying business management. You will see her once again on the waterfront as a lifeguard and doing whatever she can on or in the water! This year she'll also be putting her business skills to use assisting in the business manager's office helping to make sure all of the behind the scenes stuff carries on flawlessly.
In her own words, "I like to run, downhill ski & snowboard, waterski, windsurf, fish AND BE AT CAMP! My favorite food is pasta … without sauce! I am SOO very excited to be back at WeHaKee! I can't wait to see you all this summer!!" We can't wait to have you back for another great year at WeHaKee!
Karen Gogins was a successful three sport athlete – volleyball, basketball and track – at her high school in Roseville, Minnesota, just north of St. Paul. She now attends Grinnell College in Iowa studying anthropology and environmental studies. And she maintains her athletic prowess by participating in basketball and ultimate frisbee. She also serves on Grinnell's Environmental Committee. Having a great love for travelling, she has travelled extensively, spending time in Scotland, Germany, Switzerland, Austria, Hungary, Mexico and Bolivia.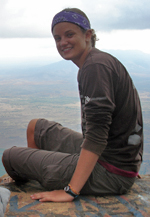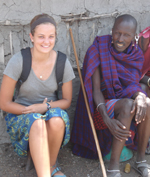 This past semester she studied abroad in Tanzania where she had the opportunity to venture out on an 8-week camping trip on the African savannah. "I am quite confident that I will be well prepared to deal with any lions, elephants, baboons, hyenas, giraffes or scorpions I might encounter at WeHaKee!" And we're glad to say that she will not have much chance to use those skills at camp! Teaching English at a rural primary school, climbing a mountain and learning Swahili were also some of the other experiences she enjoyed during her amazing adventure! You'll again see Karen leading many of our athletic activities at WeHaKee this summer as well as chilling in the cabin with our great campers!
We welcome both Jenny and Karen to another wonderful team of young women who will be excited and ready for our first campers to arrive on June 19th! Come back next week to meet some more of our returning WeHaKee team members! Have a great week!