Sunday Snippet: We Welcome Lenny to WeHaKee!
We would like to take this post to share with you some great news for WeHaKee Camp for Girls!  We have hired a wonderful, new and talented Property Manager to take care of the camp we all love! Take a moment to sing the WeHaKee Welcome Song (ok, quietly in your head if you're at school or work!) as we welcome Lenny Kaser to the shores of Hunter Lake!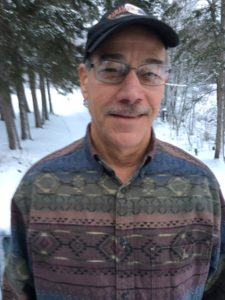 We welcome  you to We-Ha-Kee
We're mighty glad you're here!
We'll send the air reverberating
with a mighty cheer.
We'll sing you in, we'll sing you out.
To you we give a might shout!
Hail, hail, the gan's all here
And you're welcome to We-Ha-Kee!
Although we looked far and wide for just the right person to fill this important position at camp, Lenny comes to us from right here in Winter, Wisconsin!  He and his wife Tami, live just a few short miles down the road from camp where they keep several horses on their property. Prior to his arrival at WeHaKee, Lenny was the Maintenance Supervisor at the Winter Schools for the past 18 years.  He comes to us with vast experience in grounds keeping, facility maintenance, mechanical systems and repair, plumbing, electrical, and much more!  But what we really enjoy about him is his warm smile and welcoming personality. And check out that WeHaKee hat – seems to fit him perfectly!
With any new job, there are always things to learn and understand even when one comes with tons of experience.  Lenny has already explored the more than 35 buildings on camp along with checking out all of the equipment necessary to keep camp in ship shape order. He wants to make sure he has everything under control by the time our campers arrive in June. 
We are thrilled and honored to have Lenny on board and we look forward to all his hard work and wisdom as he takes great care of our camp. Welcome Lenny! We're glad you're here!
Thanks everyone and have a great week!