Sunday Snippet: What A Great Start To The Summer!
We have had a trememdous start to our first session of the Summer which began on Tuesday! It's so good to again hear the crack of screen doors closing of in cabin row and the excited screaming for water skiers getting up for the first time on Hunter Lake. We have a great group of girls this session and they come to us from throughout the United States as well as from France, Belgium, Korea and England. Here's a sampling of what we've been up to these past 5 days: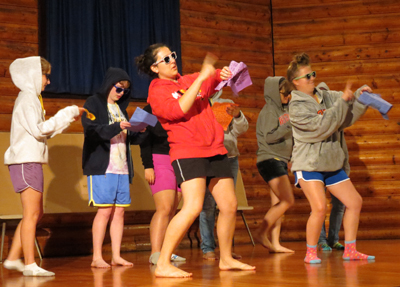 On Tuesday, the girls started arriving at camp around 3:00pm, ready to meat their counselors andunload their belongings in their cabins. Our bus from Chicago arrived ahead of schedule around 4:30. After a few rounds of 'Get-to-Know-Me' games and camp tours, we enjoyed our traditional spaghetti & meatballs dinner for our first time together in the Dining Hall. Due to some delayed flight arrivals, our Minneapolis bus arrived quite late, but the girls we're happy to be at camp and settled in quickly for the night.
Our first full day together was a bit rainy pushing some of our outdoor activities inside. Fortunately we did not experience the record rainfalls that occured north of us in Duluth, Minnesota. Instead, we had a rousing Welcome Fire in Lauerwood Lodge where each cabin had the opportunity to introduce themselves to the camp community by sharing their creative and crazy cabin call-outs! The rain may have moved us inside temporarily, but the spirit and enthusiasm was flying high!
Thursday morning the sun came out and it was full speed ahead with activities ~ girls were enjoying horseback riding, water skiing, kayaking & canoeing, sailing & windsurfing alaong with dance, arts & crafts and pottery. Despite all the water from the record rain up north travelling down the Chippewa River and into our lake, the high water has not gotten in the way of water activities one bit. Although our ski dock has become a little island ~ No Worries!! Hunter Lake is wide enough to keep the current very gentle and with camp up on a ridge, our & cabins and buildings are high and dry!
We enjoyed our first camp cook-out in the Valley last night and this afternoon we will be enjoying our first specila event of the summer ~ Dancing with the WeHaKee Stars! Who knows, maybe there will be a guest appearance by Donald Driver! Have a great week everyone!