Thank You Jennifer For Helping Women!
All girls deserve respect and no girl should ever be bullied. A recent message sent to the local newscaster, Jennifer Livingston, here in La Crosse, Wisconsin was both surprising in the sender's ignorance and maddening in his thoughtless and mean tone. Although we do not know Jennifer personally, we have seen her out and about supporting and promoting the community in a variety of positive & meaningful ways. For anyone to suggest that she is not meeting her community responsibility because in the eyes of another she is not managing her weight appropriately is appalling and shocking!
Now at this point, you may expect that her response might be nothing more than an indignant rebuttal, which certainly would be justified. But no, she chose a much different path… a much more direct, yet positive response with a very important message for all of us. She methodically demonstrated that messages such as this are occurring all the time, that they are really the work of bullies, and that no one should have to accept this type of behavior. And she took it further by challenging everyone to examine their own words and actions to ensure we ourselves are not thoughtlessly feeding these mean spirited words and attitudes in our children and those around us.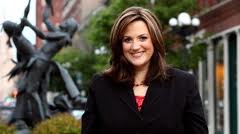 Click on the photo or HERE to watch her video response
At WeHaKee Camp for Girls, we are about empowering girls and young women to be who they are and to let their gifts shine and not be judged solely on how they appear to others.   We applaud Jennifer Livingston for taking a stand and for using her platform to share a critical message we all need to hear and embrace.   And we thank her for stepping up to her role as a strong, confident and tremendous role model for girls and young women.   Thank you Jennifer!   All girls deserve respect and no girl should ever be bullied!