Camp Cookouts in the 1930s VS Now!
Oh, the food at WeHaKee! The food at WeHaKee Camp for Girls has always been considered some of the best around, but it's the weekly all-camp cookouts that have been and continue to be camper favorites! There is just something special about coming together for a meal outside, with the sun shining through the canopy of the great white pines and the breeze keeping the air cool and comfortable. As it was back then, there is no need for ipods, cell phones, lap tops or any other electronic distractions… just fun, friends and food!
In our first photo, the 'Then' shot, we see a cookout from 76 summers ago in 1936 at WeHaKee when it was located in Marinette, Wisconsin.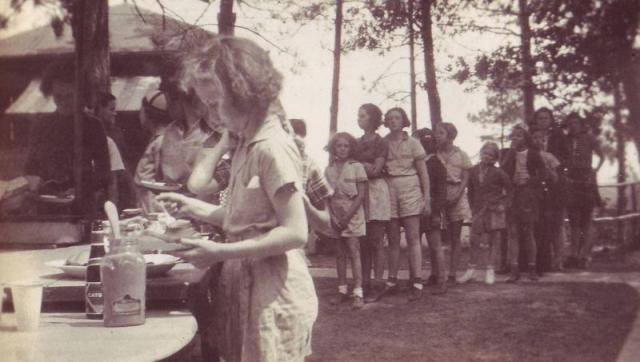 In our 'Now' photo, we see some of our happy campers just last Saturday, enjoying the cookout in the Valley on a beautiful July evening at WeHaKee!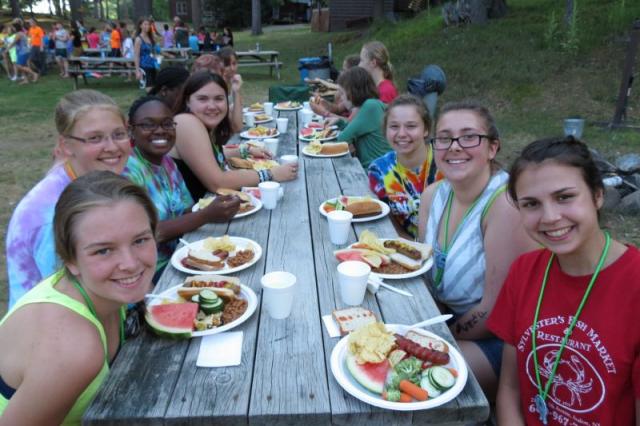 Join us again next week for another 'Then and Now' journey through WeHaKee's wonderful history.   Do y ou have any pics and stories to share from your WeHaKee past?   We'd love to hear from you.   Share a comment or contact us at Info@WeHaKeeCamp forGirls.com.   We would love to hear from you!