Photos of the 60th Anniversary Celebration!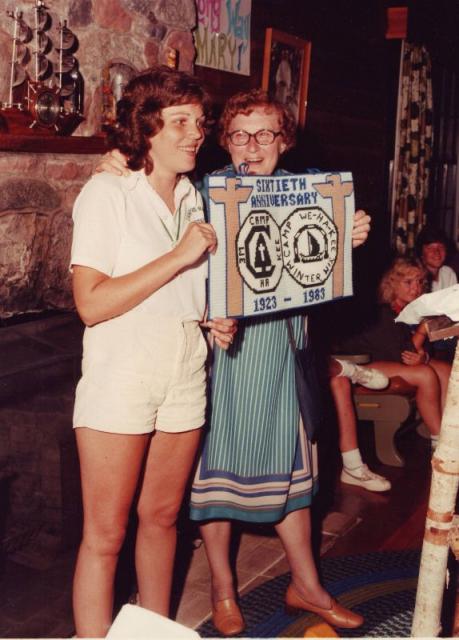 As we prepare for the celebration of our 90th Anniversary of WeHaKee Camp for Girls in 2013, we have really enjoyed searching through our archives of photos from the past nine decades.   We recently came across pictures from the 60th Anniversary Celebration held at camp during the summer of 1983. The faces splashed across the photos are so fresh and excited, it is hard to believe these were taken nearly 30 years ago.   But the connections in the photos are still here today!
In the photo to the left, Sr. Marie Karen Hawkinson (the director at the time also known affectionately as 'Hawkie') is standing alongside a WeHaKee staff member as they hold a beautiful needlepoint completed to honor the first 60 years of WeHaKee! This needlepoint creation was subsequently framed and hangs in the dining hall of Sinsinawa Lodge at Camp WeHaKee.   And Marie Karen is still spry in her mid 90's, living in Menomonie, Wisconsin.   She continues to have fond memories of her many years on the staff and directing WeHaKee Camp for Girls ~ see A Visit With Hawkie! in our WeHaKee World blog.
In the photo below and to the right, WeHaKee's benefactor and staunch supporter, Nancy Gerrard, is seen attending the WeHaKee 60th Anniversary Mass in the Chapel overlooking Hunter Lake (Nancy second from the left in the first row of adults).   She generously supported WeHaKee when both Marie Karen and Sr. Arturo Cranston directed the camp.   Her daughters were campers at WeHaKee in the 1970s and her granddaughters recently attended from 2005 through 2011, under the first lay directors, Maggie & Bob Braun.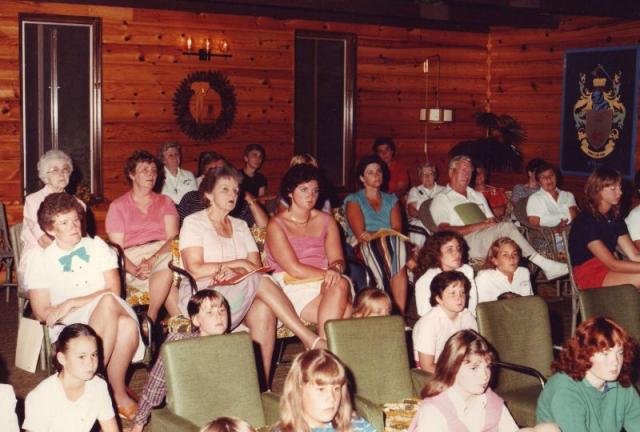 There are several other campers, staff, and adults in these photos and we would love to know who they are.   If you can identify any of these individuals (and perhaps provide their status and/or contact information), we would be most appreciative ~ please click HERE to contact us!
Now just to give us a reference point regarding 1983, here are just a few things that were happening in the world back then:
The popular TV show M*A*S*H ended its 11 year run on CBS television
Michael Jackson introduced his famous 'moonwalk'
Astronaut, Sally Ride, became the first female to launch into space aboard the space shuttle Challenger
Ronald Reagan was in his 1st term as United States president
The now popular software program Microsoft Word was first released
McDonald's introduced the Chicken McNugget
Some of the popular music of the time included Every Breath You Take (The Police), Billie Jean & Beat It (Michael Jackson), Africa (Toto), Down Under (Mean at Work) and She Blinded Me with Science (Thomas Dolby)
Thanks for joining us and have a great day!