1940's Notre Dame & Camp Rockne!
For those of you who might follow college football, you probably have noted the special and remarkable season the Notre Dame football team has had so far this fall.   At the onset of the 2012 college football season, very few ever expected the Fighting Irish to end their season in the national championship game – but that is exactly what will happen on January 7th!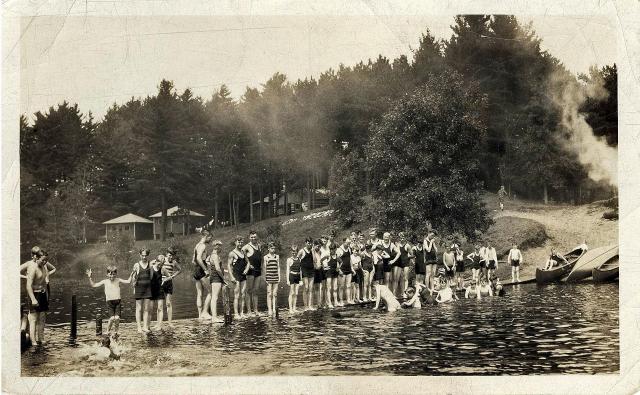 So what does this have to do with WeHaKee Camp for Girls you ask?   Well, historically there is a connection between WeHaKee and Notre Dame football – a historical connection that began when WeHaKee moves from its location in Marinette, Wisconsin to its current site in the northwest portion of the state in 1964.  
Back in 1923, a group of men with the blessing of legendary Notre Dame football coach, Knute Rockne, built a camp for boys at the site of an old logging camp – a location that WeHaKee now occupies.   At that time, it was known as Rockne Camp for Boys and remained an active camp until the mid-1940's.
From what we have learned, Camp Rockne focused on helping boys hone in on their football skills like running, blocking, passing, and kicking, but in many respects, the true focus was not that different than that of WeHaKee Camp for Girls – to give the campers lots of opportunities to try new things that they may not be able to experience at home.   Coach Rockne did travel to northern Wisconsin on several occasions to see the facility, as well as to see just how the boys were fairing at his namesake camp.   
In the photo above, Knute Rockne is the balding gentleman immediately above the boys getting out of the water!   Also note cabins 9 & 10, which are still there today!   And our current waterfront dock is far more stable than what is pictured here!
Knute Rockne was known for his tough and highly successful football teams, but he was insistent in creating players of strong character and solid integrity.   It has been noted that he expected the same from the boys and staff at Rockne Camp for Boys.   Although boys are no longer the primary residents along the northern shore of Hunter Lake, we are quite certain that Coach Rockne would still be very proud of the character and integrity found among the girls and young women of WeHaKee Camp for Girls!
Thanks for reading and have a wonderful day everyone!