Catholic Church History with Camp!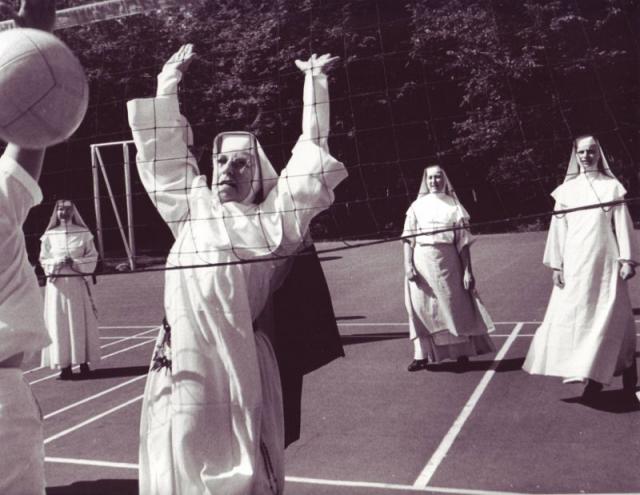 With the 50th anniversary of the Second Vatican Council earlier this week, it has been noted how this event in the Catholic Church's history provided a catalyst for the illumination of all the remarkable things that the women of the church had been doing, often beyond the eyes of the rest of the world.   So it is only natural that this brought to mind the progressive and visionary nature of the Sinsinawa Dominican Sisters throughout their history… well before 1963!  
Under the guidance and leadership of Father Samuel Mazzuchelli, the Sisters were championing the education of girls and women as far back as the mid-1800s!   They founded Rosary College in Sinsinawa, Wisconsin in 1901 and at the time it was considered to have the most modern and cutting-edge science labs in the country.  By the way, Rosary College became Dominican University, a currently thriving university for women located just outside of Chicago in River Forest, Illinois.
It comes as no surprise then, that Sr. David O'Leary, OP, would go on to found WeHaKee Camp for Girls in 1923 with the wisdom and vision of giving girls and young women the opportunity to experience and learn about God's great outdoors while coming together in a fun and supportive community. And as you can see, it wasn't about sitting around admiring the trees and the lake!  
Like it is today, the WeHaKee experience has always been an active experience.   It is an opportunity to try lots of new things… perhaps things a girl doesn't have access to at home.   By trying new things in a supportive and fun-loving environment, girls gain confidence and increase their independence. And they take these new strengths with them when they return home helping them counter the negative cultural messages they may be subject to beyond the WeHaKee community.
WeHaKee is and has been a place of fun and strong positive values for 90 years.  A summer at WeHaKee is like no other camp.   Along with it's beautiful location, it's selection of nearly 40 activities and opportunities to make friends from around the globe, WeHaKee Camp for Girls focuses on making a better world for girls and young women by helping them build inner strength and confidence. And the first 90 years… well, that's just a great start!
Thank you again for joining us.   God Bless and have a wonderful day!